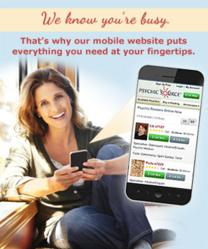 Our mobile site gives our customers even better and faster access to psychic services any time, anywhere.
Langhorne, PA (PRWEB) April 15, 2013
With mobile devices dominating the digital space, it doesn't take a psychic to predict that increasing multitudes of customers will be accessing psychic readings from their tablets and smart phones. Which is why Psychic Source, the most respected psychic service since 1989, is launching a full-service mobile website.
"We know our customers are turning to their mobile devices for all their online activities like shopping and email," says Maryanne Fiedler, Marketing Director for Psychic Source, "so we want to make sure they can also connect through our mobile site with our psychic readers and online community."
"For customers who have been using the Psychic Source website, it should be a seamless transition to mobile," says Ms. Fiedler. And for new customers, it's the perfect platform to showcase what Psychic Source has to offer. "You can do almost everything on our mobile site that you can do on our website, from accessing your account, adding dollars and updating settings, to checking for available online psychics, rating your readings and connecting to social media," she says.
The psychics are also psyched for this latest expansion in their ability to connect with loyal and potential new customers. "When people have questions they want to ask a psychic, they're not always at their desk or in a place with a computer," explains veteran psychic, Kimberle. "With the mobile site, there is so much more flexibility for connecting and getting answers right away, when it's most helpful."
****
About Psychic Source:
Founded in 1989, Psychic Source is the nation's oldest and most respected psychic service. Psychic Source's advisors are experts in astrology, horoscopes, numerology, tarot cards, clairvoyant readings, and many other psychic disciplines. Psychic Source believes in its community of authentic Psychics and stands behind the authentic psychic readings they deliver to clients. Visit them online at http://www.psychicsource.com.
For more information, contact:
Maryanne Fiedler, Marketing Director
maryanne(at)psychicsource(dot)com
215-953-8568