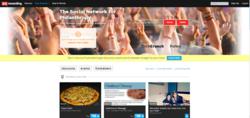 "Giving to my favorite causes while saving money on the things I love doesn't even feel like donating."
- Kenton Kuhn, CEO, Blacktie-Colorado
DENVER, April 2, 2013 (PRWEB) April 03, 2013
Denver-based SoRewarding, the premier online social network for philanthropy, is shaking up the way cause-minded individuals across the U.S. think about the process of giving with the national launch of its website. Already successfully bringing nonprofits, merchants and community members in Denver together in creative and fun ways to raise money, SoRewarding will now be available in every U.S. city.
Nationwide over 1.5 million nonprofit organizations which compete for charitable dollars are finding that it has become increasingly difficult to attract donations in today's media-savvy society. Despite spending over $7.6 billion annually on marketing, these nonprofits are confronted with the challenge of finding a way to continually raise funds which doesn't place an undue burden on individuals or businesses that wish to become involved. SoRewarding enables people to realize an extraordinary impact by simply engaging in ordinary activities.
According to the 2012 Nonprofit Social Networking Report, nonprofits find great value in their fast-growing social networks. SoRewarding builds on this trend with an easy-to-use technology that helps communities connect through its network and other social media to spread the word and generate excitement for nonprofits, fundraising opportunities and local merchants. All activities such as discounts, gift certificates, ticket purchases, event donations and sponsorship lead to a donation.
In a society where social giving, impact investing and paying it forward are indicative of a different way of thinking about philanthropy, SoRewarding allows nonprofits, consumers and small businesses to benefit greatly by joining the site. Merchants can support causes while attracting customers. Consumers can engage in charitable giving by performing their everyday activities. Nonprofits receive the tools and funding they need to amplify what they do best in serving their community.
"We're thrilled to expand our unique concept to the entire country," said Marion Mariathasan, CEO. "There are some sites with a few pieces of technology similar to what we have developed, but there is no single site that combines a suite of technologies with a focus on philanthropy. SoRewarding is its own social network with capabilities to connect to outside social media sites along with its own ticketing system, gift certificates, discounts, fundraising events, and sponsorships."
The company has also initiated a wristband movement which urges individuals to give their kindness band to others when they engage in random acts of kindness. These wristbands can be tracked using a unique ID code on SoRewarding.com by every individual that receives a band, allowing each person to see what acts of kindness their band has been involved in and where it has traveled in the world.
Already benefitting from the site's many features are various organizations such as Montana State University which has purchased customized kindness wristbands, Whole Foods which is using the ticketing system, and sponsors that include Uber, Smash Burger, Marriott, Chipotle, Denver Nuggets, and Noodles & Company.
For the SoRewarding team, creating this original platform for helping local nonprofits raise money is just the beginning. Looking ahead, the site plans to add more relevance-based information on its feed, an updated profile capability and enhanced sponsorship technology.
"We hope to really shake up the whole concept of philanthropy," concluded Mariathasan. "Our ultimate goal is to help people become human again, to give back, show kindness and stay connected to their community through simple and fun everyday activities. The American Association of Fundraising Counsel reported that individuals donated over $217 billion in 2011. We think we can dramatically increase that number."
SoRewarding is the social network for philanthropy that makes it simple for EVERYONE in a community to support and connect to local causes and each other through their daily activities. Established in 2011, the team at SoRewarding comes from diverse backgrounds looking to reinvigorate the ways our communities go about giving and interacting with local causes. SoRewarding was created to empower nonprofits while creating a more interactive way to stay connected with cause-minded individuals and businesses.