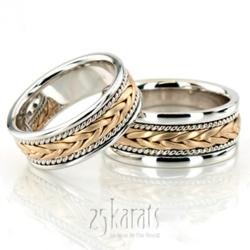 Believe in the finest!
New York City, NY (PRWEB) April 03, 2013
Choosing the wedding band of your dreams shouldn't be a stressful event. But when wedding season is in full bloom, getting the perfect wedding band can often feel like a hassle, especially when there are only a few select styles to choose from.
That's exactly why online jewelry retailer 25karats.com has introduced their massive range of wedding bands, with over 3,000 different styles to choose from. From classic and contemporary to antique and Celtic, this diverse selection of wedding bands is perfect for couples who want unique wedding bands they'll be proud to wear in just a couple of months.
"While we're certainly known for our diamond engagement rings, we also offer one of the largest selections of wedding bands online," says Matt Aksu, CEO of 25karats.com. "With the height of wedding season just mere weeks away, we know our customers will truly appreciate the lengths we've gone to so we could secure these gorgeous wedding bands.
"After all, a wedding band is something you'll wear for the rest of your life – and it needs to be special!" he adds.
25karats has a full line of wedding bands – including traditional diamond rings, antique bands, classic bands, and more. This ensures that their customers will always have the widest selection of high-quality wedding bands to choose from.
Couples can select the perfect wedding band from over 3,000 band styles, as well as opt for the specific metal of their choice. 25karats.com offers gold wedding rings, platinum wedding bands, and palladium wedding rings, as well as titanium, seranite, Argentinum silver and cobalt metal selection.
Couples can also customize their wedding bands for a personal touch. Personalization options include band width, color and finish. Customers can even engrave the wedding band with their own special message in their preferred font.
In addition to this wide range of options, customers can continue to enjoy 25karats.com's online guarantee, free shipping, and generous 30-day return policy.
"We expect sales to be very high for this wedding season," Aksu points out. "It's our ultimate goal for our customers to not only find their dream engagement rings with us, but also their wedding bands."
About 25karats.com:
Believe in the finest! That is the motto of fine designer bridal jewelry manufacturer 25karats.com. With its wide selection of engagement rings, wedding bands and anniversary rings, 25karats.com is the rising star of online jewelry market. Each piece of jewelry by 25karats.com showcases the highest standard in jewelry production! By shopping at 25karats.com, you will not only get your dream jewelry but also the best customer service experience.
25karats has offices at the heart of Manhattan's Diamond District, which allows for immediate access to some of the best resources in the jewelry industry, both locally and worldwide.