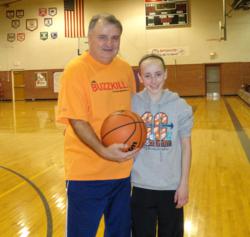 It was easy for me to take the challenge [Great Plains Area Bishop Scott Jones] gave.
Wichita, Kan. (PRWEB) April 03, 2013
The opportunity to play basketball brought a young boy to church more than 40 years ago. Today, the man, a United Methodist pastor in Western Kansas, is using those skills to save lives in Africa.
Rev. Kip Ryherd, pastor at Minneola (Kan.) United Methodist Church, issued a challenge to his congregation to guess how many free throws he could make out of 1,000 attempts. For each guess, the congregation was asked to donate $10 to Imagine No Malaria, the United Methodist campaign to end malaria deaths in Africa.
Ryherd made 722 free throws and raised around $1,000 for Imagine No Malaria.
As a teen, Ryherd knew very little about God or the church. When a new church started a youth basketball team, Ryherd and his older brother joined the team.
"The church required us to attend three out of four Sundays each month, either Sunday school or a worship service, if we were going to play on their team," Ryherd said. "After basketball season was over the first year, I quit going to the church."
But Ryherd's older brother didn't, and he talked Ryherd into attending an event at the church where a family from out of town would be singing and sharing God's word.
"I went because my brother showed me a picture of the girl that was going to be singing with her family," Ryherd admitted.
But as he listened to the music and to the simple gospel message, he was changed.
"I went forward that night and accepted Jesus as my Lord and savior. He changed my life completely," Ryherd said.
Basketball was a tool that God used to bring him to God's saving grace, Ryherd explained.
"It was easy for me to take the challenge [Great Plains Area Bishop Scott Jones] gave," he said.
Jones challenged pastors across Kansas and Nebraska to join him in shooting free throws to raise money for Imagine No Malaria in February.
Ryherd and Jones had a friendly agreement. If Bishop Jones made more free throws, Ryherd would buy five nets in his honor, but if Ryherd made more free throws, the bishop would buy five nets in Ryherd's honor. Jones made 360 free throws.
United Methodists across Kansas and Nebraska were encouraged to guess how many free throws the bishop would make for a $10 donation to Imagine No Malaria.
More than 100 guesses were submitted directly to the Bishop's Free Throw Challenge, raising $1,150 for Imagine No Malaria.
Great Plains area United Methodists have raised more than $93,000 since Jan. 1, 2012, for Imagine No Malaria.
To learn more about Imagine No Malaria and the Shoot for No Malaria campaign, visit http://shootfornomalaria.net.
About Imagine No Malaria
Imagine No Malaria is an extraordinary ministry of The United Methodist Church, putting faith into action to end preventable deaths by malaria in Africa. With a goal of raising $75 million to improve health infrastructure and empower a sustainable victory over the disease, Imagine No Malaria is our opportunity to rethink how we reach beyond our church, opening doors to those who need it most. For more information, please visit us online at ImagineNoMalaria.org.