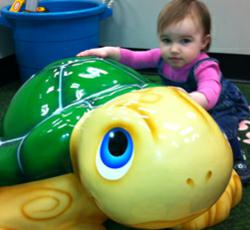 When kids have fun, parents get a guilt-free workout, which also helps our memberships.
Timonium, MD (PRWEB) April 04, 2013
Brick Bodies Padonia has opened a brand new 3,300-square-foot "Little Bricks Club" as an amenity to its fitness center members and, subsequently, has had to hire more staff to keep up with demand. The child care center covers 3,300 square feet and includes a Wii and computer room, play maze, sport court, a soft play area for toddlers created by PLAYTIME, a second toddler room, a craft center and snack area, and an infant room.
"Last Saturday, we had 137 kids in here between 8 a.m. and 1:30 p.m.," says Laurie Dehoff, team leader, who is in the midst of hiring more Little Bricks staff to meet the need. "The response from children and parents has been wonderful. It's pretty exciting."
Located in Timonium, MD, Brick Bodies Padonia is one of seven Brick Bodies locations in Maryland. The fitness and wellness company was founded by Baltimore natives, Victor and Lynne Brick in 1985. All of the clubs except one features a "Little Bricks Club," offering child care, play and sport opportunities for children who are six weeks to 12 years old.
The newest "Little Bricks Club" at Brick Bodies Padonia has surpassed everyone's expectations.
"Parents tell us their kids want to come and play," says Dehoff. "When kids have fun, parents get a guilt-free workout, which also helps our memberships."
For its youngest guests, Brick Bodies asked PLAYTIME, LLC to create a soft playground. PLAYTIME is the global provider of unique, interactive, soft play areas and playground equipment for indoor, outdoor and water play. The Brick Bodies toddler area includes soft, themed play elements such as a giraffe, turtle and butterfly. Even the flooring is soft, featuring PLAYTIME's DuraSoft Safety Carpeting.
"Parents love soft playground," says Dehoff. "It's nice because everything is so soft. Between the cushioned floor and cushioned pieces, it's so safe for young children. Parents feel better about leaving their kids because it's a nice, safe environment."
Additionally, Dehoff believes that the new Little Bricks center makes parents happy because their children are getting exercise. The children are asking their parents to work out so that they can go into the Little Bricks room and play with their friends.
"We're getting a water fountain because the kids are getting so much exercise," she says. "Parents appreciate that the kids are active, not just watching television."