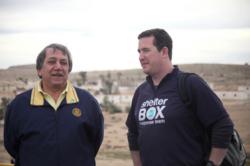 Our partnership with ShelterBox gives Rotarians everywhere the opportunity to assist in disaster relief through a trusted, proven organization.
Sarasota, FL (PRWEB) April 02, 2013
During its 2013 Humanitarian Awards, international humanitarian relief organization, ShelterBox USA recognized Rotary International for its outstanding commitment to disaster survivors around the world through partnership with ShelterBox.
ShelterBox provides humanitarian aid—emergency tented shelter and other supplies, such as stoves, blankets and water filtration systems, among other tools to help families rebuild their lives after losing their homes and possessions following a disaster such as earthquake, volcano, flood, hurricane, cyclone, tsunami or conflict.
"For more than 100 years, Rotary has provided Rotarians with the opportunity to provide service in their communities, and through connections with Rotary clubs in other countries, many make a global impact," Rotary International Division Manager, Sharon Cyr, said.
"Our partnership with ShelterBox enhances this experience by giving Rotarians everywhere the opportunity to assist in disaster relief through a trusted, proven organization with the capacity to provide immediate lifesaving assistance to disaster victims anywhere in the world."
Rotarians around the world have supported ShelterBox since the organization was founded in 2000. Rotarians, Rotary-related youth groups, Rotary clubs and districts play a vital role in not only raising funds for ShelterBox's relief efforts, but also by providing logistical support during ShelterBox deployments around the globe.
In the fall, when families in the US northeast found themselves in need in the wake of Superstorm Sandy, Rotary Districts 7500 and 7640 quickly mobilized to help ShelterBox Response Teams identify the most vulnerable families and distribute aid. As a result, 6,000 people received emergency supplies such as blankets, hygiene kits and children's comfort packs.
Recently, Rotarian ShelterBox volunteers assisted those made homeless by a typhoon in the Philippines—helping to shelter hundreds of families. Additionally, Rotarian supporters aided ShelterBox's efforts in Jordan to address one of the most complex humanitarian crises addressed to date—the Syrian refugee crisis.
"In recognition that combined, the strengths of both Rotary and ShelterBox could be used to better address humanitarian needs in the immediate aftermath of disasters, the Rotary International project partnership with ShelterBox was officially signed last year," said Emily Sperling, ShelterBox USA president.
"The partnership encourages the 'service above self' philosophy of Rotarians to be put to use in support of the ShelterBox mission. In fact, in the United States, 75 percent of our volunteers are Rotarians. I am inspired by their generosity and passion to help us provide shelter, warmth and dignity to families affected by disasters."
Other organizations recognized at the ShelterBox USA Humanitarian Awards include Airlink, Baker & McKenzie, Centerline Digital and UPS.
ShelterBox is currently providing assistance to families impacted by a cyclone in Madagascar, flooding in the Philippines and Uganda, and those displaced by conflict in Myanmar and Syria.
Since 2000, ShelterBox has responded to over 200 disasters in more than 85 countries. Its American affiliate, ShelterBox USA is headquartered in Sarasota, Fla. Individual tax-deductible donations to ShelterBox USA can be made at http://www.shelterboxusa.org, 941-907-6036 or via text message by sending SHELTER to 20222 for a one-time $10 donation.
About Rotary International
Rotary is an organization of business and professional leaders who provide humanitarian service and help to build goodwill and peace in the world. There are 1.2 million Rotary members in 34,000 Rotary clubs in more than 200 countries and geographical areas. Rotary clubs have been serving communities worldwide for more than a century. The first Rotary club was founded in Chicago in 1905. For more information, visit http://www.rotary.org.