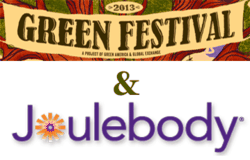 New York, NY (PRWEB) April 02, 2013
Joulebody is a renowned cleanse program enabling one to achieve maximum health and wellness without starvation. Joulebody was established in New York City, 2007, by Yvette Rose, a mother of two, nutrition specialist, and an acclaimed yogi. Joulebody has since been featured in magazines like Town and Country, Details, and Vogue, enjoying steady growth and popularity. Rather than a numbered juice system, Joulebody's cleanse program entails whole food protein smoothies. Each smoothie consists of both raw and cooked organic food, spices and herbs—all 100% natural. To aid with cleansing, detox, and the breaking of bad food habits, there are delicious meal replacement bars as well—the first detox - cleansing bars on the market. They're packed with detoxifying ingredients like turmeric, cayenne, fennel, and dandelion root. They are also gluten-, sugar-, wheat-, nut- and preservative-free. Other Joulebody products include Joulebody Detoxifying Meal Brownie and Blondie bars. All packaging is 100% recyclable glass and paper.
Joulebody's eat-while-you-cleanse programs were created by Yvette Rose herself. "Shock and starvation is a ridiculous approach to health," she says, speaking from years of personal/professional experience. "The body is already perfectly designed. The Joulebody Detoxifying Cleanse has been carefully engineered to kick-start the body's own cleansing system, allowing it to manifest optimally."
Joulebody cleanses are available nationally online at Joulebody.com, and coming soon to a local health food store near you. The world renowned Bliss, offering the best health and beauty products, is now offering a joulebody cleanse online as well. Bliss wanted to offer the best healthy alternative to juice only cleanses, Joulebody is what they found.
Joulebody has recently partnered with MetaBrand, co-creating juices and smoothies. These will also soon be available online and at select supermarkets and health food stores.
Joulebody is especially proud to participate in the Green Festival in New York City April 19th - 21st, and in San Francisco, CA November 9th - 10th. Joulebody will be offering samples of whole food juice cleanses and detox bars and will be conducting yoga demos. Take the opportunity to meet Yvette Rose in person and listen to her wellness journey and her commitment to making juice-by-number cleanses history. More info on the Green Festival can be found at http://www.greenfestivals.org.