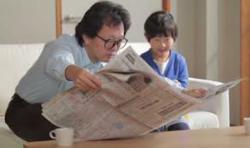 In an age of mobile phones, tablets and other screens, we welcome the opportunity to have families sit down in traditional ways – elbow to elbow – and enjoy quiet moments together.
Chicago, IL (PRWEB) April 03, 2013
As newspapers face the triple threat of intense competition in the advertising space, an increasingly crowded digital marketplace and a young population not steeped in print media, all are seeking new features to attract younger readers. Publications nationwide are mining the landscape of puzzles, games, child-authored articles, comics and other colorful material for what they call "sticky" features or content that will captivate young readers and their parents. The Philadelphia Daily News recently tackled this challenge by launching Kids Across Parents Down (KAPD), a collaborative family crossword featuring across clues for kids and down clues for parents. The weekly feature will begin running on Saturday, April 6.
Like its creator, Jan Buckner Walker, KAPD got its start in the Washington, D.C. area, launching in The Washington Post. The nationally syndicated puzzle gained immediate and durable popularity, assisting other newspapers in their quest for sustainability and growth, including the Los Angeles Times, Richmond Times-Dispatch, Pittsburgh Post Gazette and others.
With the launch of its Daily News Weekend page, Philadelphia Daily News editor Michelle Bjork remarked that she sought a lively feature that would simultaneously engage both their child and adult demographics and thereby drive increased interest. Having noted the weekly feature's rapid acceptance in publications across the country, she saw its potential to become a weekly family ritual in Philadelphia as well. "Kids Across Parents Down serves a number of purposes for us," she commented. "It strengthens family bonds, cultivates newspaper readers in our youth, and spreads the Daily News brand."
According to Walker, a former resident of the City of Brotherly Love who worked on the copy desk of the Philadelphia Inquirer, the sister paper of the Daily News, "On a personal level, I am incredibly excited and proud about having kids and parents in the Philadelphia and surrounding area join the KAPD family." Noting that the papers combined reach over a quarter of a million readers in the Philadelphia area, she added, "For years, the Daily News has brought a fresh, crisp and honest take on the news to doorsteps and newsstands every day. In an age of mobile phones, tablets and other devices, we welcome the opportunity to give families a chance to sit down and enjoy a traditional, elbow-to-elbow, quality time activity that generates parental involvement in a child's education while offering an enjoyable learning experience."
KAPD puzzles have become an arrow in the quiver of many teachers. Several newspapers have leveraged the puzzles through their Newspapers In Education initiative, which provides innovative uses for newspapers in the classroom. In addition, prompted by calls from educators across the country who utilize KAPD both in their classrooms and as take-home activities, the company has begun piloting Kids Across Teachers Down in selected markets. According to the January 2013 issue of the New Jersey Education Association Newsletter, in nearby Burlington County, this curriculum-based "classroom cousin" of KAPD debuted with the teacher projecting the puzzle on SmartBoard interactive whiteboards. Future pilots will involve class vs. class challenges and school vs. school tournaments.
About Kids Across Parents Down
Founded in 2003, Kids Across Parents Down (KAPD) is a leading creator of fun, educational and innovative products, specializing in collaborative activities for kids and adults. Best known for its #1 syndicated family crossword, which launched in The Washington Post and within months was distributed nationwide, the puzzle has been picked up by major metropolitan daily newspapers, including the Chicago Tribune, Los Angeles Times, Atlanta Journal-Constitution and the Philadelphia Daily News and by national publications such as Nick Jr. Family Magazine, KidScoop and Kidsville News! In addition to spawning a popular book series based on its unique family concept, the company creates and licenses interactive content to companies such as McDonald's, Cracker Barrel and the Boston Celtics and restaurants serving professional sports franchises. In 2012, recognizing the widespread use of KAPD content by teachers as a classroom and home activity, KAPD launched Kids Across Teachers Down, which expands the concept to provide curriculum-based content to schools. Aside from its children's content, the company also creates general market crosswords for publications such as Essence Magazine and the Costco Connection.