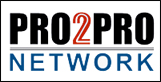 I just received a $20 million referral from a CPA I met through your service. Thank you!
Huntingdon Valley, PA (PRWEB) April 04, 2013
Doctors and professionals all agree that referrals from trusted professionals make the best new patients/clients. And, when you have multiple referral relationships in place, you never have to worry about where your next new patient/client is going to come from. It is also universally agreed upon that establishing multiple referral relationships can stimulate powerfully positive word-of-mouth and position you as "the best" at what you do in your city.
It is estimated that 95% of all Chiropractors, Dentists, Acupuncturists and Financial Advisors do not have one strong referral relationship with another professional in their city. Equally as important is that doctors and professionals do not understand how to initiate, nurture and maximize referral relationships in order to receive a steady flow of referrals.
Pro2Pro Network is the largest professional referral network in North America. Pro2Pro provides a service whereby doctors and professionals can secure mutually beneficial referral relationships with dozens of other professionals in their city that are already interested in meeting, working with and/or referring to them. Pro2Pro is the only company in North America that offers this practice-building service to doctors, financial advisors, attorneys, and other professionals. Pro2Pro also provides high level coaching to ensure that its clients are predictably successful.
Pro2Pro has been building its database of professionals since 2004. Their network of Doctors, Attorneys, Financial Advisors and other professionals just reached 1 million.
President and CEO, Dr. Len Schwartz said, "The leverage, influence, positive word-of-mouth and power that comes from having strong referral relationships with other professionals is unparalleled. We are proud of the service we provide and are thrilled that we have the ability to help thousands of doctors and professionals automate the growth of their practice."
Pro2Pro has become the go-to company and service for doctors and professionals who are looking to enjoy quantum leap growth by establishing dozens of referral relationships in their city.
For more information, you can go to http://www.Pro2ProNetwork.com or call 877-204-2739.
###
President and CEO Dr. Len Schwartz is available for interviews.