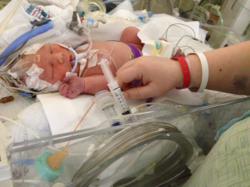 All these things that feel like chaos at the moment are really beautifully choreographed.
Peoria, IL (PRWEB) April 08, 2013
Morning Center national director James Lansberry writes about how giving birth is difficult for both a ministry and a mom in the April 2013 Samaritan Ministries Christian Health Care newsletter.
Lansberry, who with his wife, Theresa, is co-founder of the Morning Center, talks about the challenges of getting the ministry to impoverished pregnant women up and running in part one of a "State of the Ministry" communication. But the Samaritan Ministries executive vice president also writes movingly about the providential preservation of the lives of the newest Lansberry, Ezekiel, and of Theresa.
"All these things that feel like chaos at the moment are really beautifully choreographed," Lansberry writes.
Ezekiel was stillborn but was resuscitated, and Theresa required surgery following the birth.
James is thrilled to announce that not only is everybody well and at home, but that the Morning Center is making strides toward putting its first mobile maternity unit on the streets of Memphis.
Also in the April newsletter:
—Joel and Ginger Millermon also went through challenging times with their family: prematurely born twins and another adopted in dangerous circumstances. They have taken their experiences, though, and are using them to minister to women across the nation through conferences, writing and recording. The Millermons are this month's Member Spotlight. They also discuss how they chose Samaritan Ministries for their health care after finding health insurance unaffordable.
—The cover piece is a reprint of an article by Dr. Marshall Foster, president of the World History Institute on unaccountable leaders and how Christians should respond to them in times of crisis.
—Ray King's April Doorpost focuses on loving God with all our minds.
You can find links to these stories at our blog.
Samaritan Ministries International seeks to help members of the Body of Christ carry out the Great Commission through ministries that enable Christians to better obey Jesus' commands. This is currently done through the Christian Health Care Newsletter health care sharing ministry and the Morning Center maternity hospital ministry. For more information, contact James Lansberry, 877-764-2426, Ext. 186, jlansberry(at)smchcn(dot)net; or Mike Miller, 877-764-2426, Ext. 142, or 309-642-9529, mikemiller(at)smchcn(dot)net.