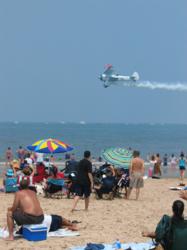 Hammond, Indiana (PRWEB) April 02, 2013
In a press conference held at the Indiana Welcome Center in Hammond, the South Shore Convention and Visitors Authority confirmed the fate of the 2013 South Shore Air Show. Speros A. Batistatos, President and CEO of the South Shore CVA and the air show event producer, stated the show scheduled for July 12, 13 and 14, has been canceled due to the impacts of sequestration.
"In response to the government's sequestration measures which have resulted in the intentionally painful cuts of the federal budget and the cancellation of aerial demonstration teams, including flyovers, jump team demonstrations and aerial demonstrations, it is nearly impossible for our show to take place this year and meet the high standards as it has set the past 13 years," Batistatos said.
"We have spent countless hours considering the effect of sequestration on our air show sponsorship opportunities, programming, attendance, and the overall financial viability of producing an all civilian aircraft event. It is with a heavy heart, that we have decided that despite our best efforts, we must cancel this year's show," Batistatos said.
The South Shore Convention and Visitors Board of Directors has made the decision to cancel this year's air show, Batistatos added, "this was a very tough decision, but when options were weighed, this was viewed to be in the best interest of all participating parties of the air show, from spectators to sponsors."
Batistatos stated that 37 other air shows throughout the nation have already preemptively cancelled their events for this year as well as three international shows, citing sequestration as the reason.
The South Shore Convention and Visitors Authority would like to thank the local community for its unwavering support of the last 13 years, especially during these difficult economic times. The commitment of Will Davis, Gary Jet Center owner; the Gary Police Department, especially Chief Wade Ingram and Commander Pete Sormaz; the City of Gary, all of our sponsors have, and of course our Air Show Director, Rudy Malnati, who have made this event a success.