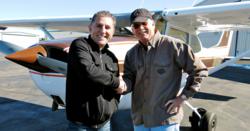 "One can't help but feel changed after such an experience. Spending all my training hours in the actual airplane instead of some simulator/airplane mix was unbeatable. I gave AFIT 10. days, and they gave me the world, one approach at a time."
Newport Beach, Ca. (PRWEB) April 03, 2013
Plane & Pilot Magazine Takes on AFIT'S 10-DAY Instrument Rating Program. Expand Your Iceberg.
http://www.planeandpilotmag.com/proficiency/flight-training/expand-your-iceberg.html
AFIT is proud to announce the editorial in Plane & Pilot Magazine featuring Marc C. Lee. Plane & Pilot Magazine takes on AFIT'S 10-DAY Instrument Rating Program.
"One can't help but feel changed after such an experience. Spending all my training hours in the actual airplane instead of some simulator/airplane mix was unbeatable. I gave AFIT 10 days, and they gave me the world, one approach at a time," states Marc C. Lee of Plane & Pilot Magazine.
AFIT is on to something here. Proving their critics wrong, "AFIT is graduating quality instrument rated pilots across the world using a non-traditional approach. With a growing menu of offerings that include not only instrument ratings but other courses including private and commercial, clients are proving they can become a safe, confident, and proficient instrument pilot in just 10 days. And they guarantee it. If you're going to run with the big dogs, AFIT might be just the place to start," states Marc C. Lee.
AFIT continues to be the future for General Aviation pilots. The US military has continuously utilized accelerated flight training for our pilots. Years of experience has proven, full-time, intense training leads to a greater level of skills, proficiency and confidence necessary to operate safely as a well- trained private pilot.
AFIT Accelerated Flight & Instrument Training has been the leading provider for Accelerated Flight Training Programs and professional consulting services to the General Aviation Industry, aircraft manufacturers, private companies, law firms, corporations, doctors, athletes and government agencies. Our team of educated and experienced Senior Flight Instructors and technical specialists are recognized for excellence in service by local, national and international business communities
Plane & Pilot Magazine is published by Werner Publishing Corporation
12121 Wilshire Boulevard, 12th Floor, Los Angeles, CA 90025
For further information contact: Tony P. Montalte, President & CEO, AFIT Accelerated Flight & Instrument Training, PO Box 9099 Newport Beach, California 92658 866-270-8224