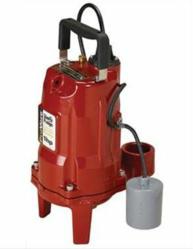 For years customers experiencing chronic clogging have called us asking for a domestic grinder with these specs but there was never anything like it on the market
Wallington, NJ (PRWEB) April 03, 2013
Pump Express now carries Liberty's new PRG Series ProVore line of residential grinder pumps. They are available as stand-alone units, convenient ProVore 380 simplex and ProVore 680 duplex pre-assembled grinder packages. The new single horsepower pumps are designed for use in residential sewage ejector systems and bring commercial-grade materials and technology, including Liberty's patented V-Slice cutter technology, to the residential market in a small, easy-to-install design.
"For years customers experiencing chronic clogging have called us asking for a domestic grinder with these specs but there was never anything like it on the market," says Sales Manger Fred Hettinger. "Liberty Pumps designed the ProVore to operate in a residential setting, providing maximum efficiency and grinding power in a unit that can be plugged directly into a standard 115 volt outlet. We think it's going to solve a lot of problems."
In addition to eliminating the rewiring, control panels and electrical expertise required to install a standard 2hp grinder pump in a home, the ProVore features a 2" discharge that provides high flow rates (46 gpm) and allows for direct connection to existing sewer lines.
"Typically grinder pumps have a 1 ¼" discharge which limits flow and makes adapting to existing 2" sewage pumps an issue," explains Hettinger. "ProVore grinders come out of the box with a 2" discharge so there's no piping adjustment necessary. This makes the ProVore ideal for new construction installations and for upgrading a home's existing 2" sewage pump."
Pump Express also carries Liberty's newly redesigned FL70, 3/4 hp effluent pumps. In addition to improved pumping head and flow the redesigned pumps operate using less amperage and with greater efficiency. Solids-handling performance has been increased. Liberty's new effluent pump series also increased solids handing performance from ½" to ¾" and incorporates a dual-sized discharge for connection to 1-1/2" or 2" piping.
"The increase in synthetic products that don't break down easily being flushed away in sewage and wastewater disposal systems is a big reason Liberty developed these pumps," says General manager Ed Drejman "We're excited about carrying them and expect them to do very well."
COMPANY INFORMATION
PumpExpress.com is a leading Liberty Pump dealer that puts a team of expert application engineers in the service of clients seeking the pumping equipment that's right for their needs. Pump Express supplies contractors, commercial, industrial, institutional and utility markets with the guaranteed lowest prices on Liberty Pump products.