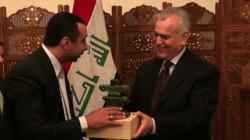 Toronto, Ontario (PRWEB) April 02, 2013
One Free World International founder Majed El Shafie congratulates the Canadian government on the opening of a permanent Canadian diplomatic office housed at the British embassy in Baghdad. The announcement was made by Canada's Foreign Affairs Minister, John Baird, who is currently in Iraq as part of a 12-day Middle East tour.
Baird's unannounced trip to Iraq, the first visit by a Canadian foreign minister in 37 years, follows the successful 2011 delegation led by El Shafie. Accompanied by observers MP John Weston, Senator Don Meredith and Iraqi activist Rabea Allos, El Shafie's delegation was the first Canadian delegation to Iraq since the start of the war.
The mandate of the 2011 delegation was to discuss the human rights violations in Iraq and to open bridges of communication with Canada. High level meetings took place with the Vice President of Iraq, Iraq's Vice Prime Minister, President of the Iraqi Parliament, Minister of Human Rights, Minister of the Environment and Iraqi Foreign Affairs. In addition, the delegation met with Iraqi refugees and spoke with victims of last October's vicious attack at Our Lady of Salvation Church.
"It is important that human rights and the rights of the minorities be equally as important as economic aide," said El Shafie. "One cannot survive without the other. It is our responsibility not to remain silent with regard to the human rights violations and rights of the minorities in Iraq. In the process of rebuilding Iraq, now is the time to build a strong human rights foundation to ensure a true democratic country with freedom of religion which is the foundation of all democracies. Without it, democracy fails."
"I am delighted that our Ministers of Foreign Affairs, John Baird, and Citizenship & Immigration, Jason Kenney, have both recently visited Iraq," said John Weston, MP from West Vancouver-Sunshine Coast-Sea to Sky Country. "Broadening our diplomatic presence there strengthens the commercial reach of Canadians in Iraq while increasing our ability to promote peace in the region and human rights in the country. Kudos to Majed El Shafie and One Free World International; Senator Don Meredith and I were on the ground with them in Baghdad in 2011 on a human rights mission. Rev. El Shafie's leadership as a human rights advocate helped pave the way for our Government leaders to take the bold steps announced this week."
For more information on One Free World International, visit http://www.onefreeworldinternational.org.
About Majed El Shafie:
El Shafie was arrested, tortured and sentenced to die in Egypt because of his Christian faith. Today, he lives in Canada and fights for those persecuted around the world through his human rights organization, One Free World International. Pressuring governments, and challenging both world and spiritual leaders, El Shafie has not been afraid to put everything on the line to help those in need. El Shafie and his work are the focus of the award-winning documentary "Freedom Fighter" (http://www.freedomfighterdvd.com) and the companion book, "Freedom Fighter: One Man's Fight for One Free World" (Destiny Image). El Shafie regularly testifies before the U.S. Congress and the Canadian Parliament and Senate, and he's a regular guest on CTV News, CBC, Sun News Network, CBN, ACLJ's Jordan Sekulow Show and more. In July 2012, he was awarded the Queen's Diamond Jubilee Medal.