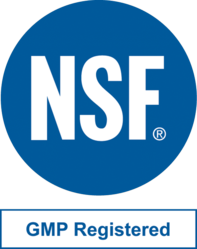 HSM is committed to supplying effective nutritional supplement products manufactured with exceptional quality and credibility
Vista, CA (PRWEB) April 03, 2013
Southern California-based, Health Specialties Manufacturing (HSM) has announced that it has received the prestigious, NSF Good Manufacturing Practices (GMP) Certification. The manufacturing facility has already been operating as an FDA and GMP compliant facility and this latest official certification further validates the company's commitment to the highest quality manufacturing standards.
"HSM is committed to supplying effective nutritional supplement products manufactured with exceptional quality and credibility," said Rick Wilson, Vice President of HSM. "We have always focused our operations on product safety and compliancy to label claims, and the NSF GMP Certification confirms our effort to deliver quality products that people can trust."
"Today, more than ever, consumers and contract manufacturing customers are looking for dependable, high-quality dietary supplements," Wilson explained. "Having the NSF Certification, confirms that our products meet strict requirements that are recognized and respected by regulatory agencies at the state, federal and international levels."
About NSF
Founded in 1944, NSF International is committed to protecting and improving human health on a global scale. NSF International is an independent, not-for-profit organization that provides standards development, product certification, auditing, education and risk management for public health and the environment. Manufacturers, regulators and consumers alike look to NSF International for the development of public health standards and certification that help protect the world's food, water, health, and consumer products.
About HSM
Health Specialties Manufacturing, one of The GHT Companies, is focused on delivering manufacturing and production services for Private Label Lines and Contract Manufacturing to the global nutritional supplement industry. Full in-house capabilities are supported by multiple production lines for powder and liquids, a Science Team and a dedicated Quality Team. For further information please visit http://www.LiquidExperts.com.