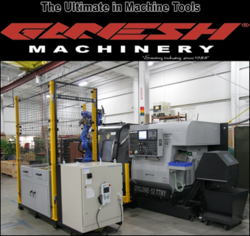 (PRWEB) April 07, 2013
The new Ganesh Machinery mid-west technical center and machinery showroom will host a Grand-Opening on May 7th in Cuyahoga Falls, Ohio. The tech center features strong production analysis, automation and turn-key capabilities in support of challenging production applications. Ganesh offers a complete line of CNC milling and turning machines. The Ganesh Cyclone multitasking CNC lathe series is available in versions from 3 to 11-axis featuring up to 3-turrets, with 16 live tools each totaling 48-tool stations and 70mm (2-3/4") barstock diameter.
Vertical Machining Centers start at 18" x 12" in X & Y axis and go up to 86" by 35" for the standard machine series. A CNC bed mill series is also available for Toolroom applications. The "Big-Bore" lathe series start at 22" swings and goes up to 63" lathe swing capacity with bores up to 14". Rear chuck mounts are available for oil field type applications.
The 15,000 sq. ft. facility will house engineering, service, sales, and spare parts. Machine demonstrations and training classes will be hosted during the "Lunch & Learn" programs at the tech center. Ganesh provides free lifetime training with each machine. The Grand-Opening is scheduled for May 6th at 318 Remington Road, Cuyahoga Falls, OH 44223 from 10am – 8pm to show the capabilities that Ganesh has to offer production minded shop owners.
About Ganesh Machinery
Ganesh Machinery is the leading provider of solutions in the manufacturing industry. At Ganesh Machinery, customers can find a variety of options for their industrial needs including CNC Milling Machines, CNC Screw Machines, Turning Centers, and much more. Ganesh also offers specialty options which include a multi axis CNC turning milling machine. For additional information please visit, http://www.ganeshmachinery.com/.