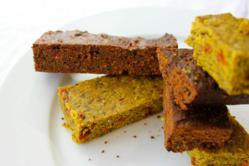 New York, New York (PRWEB) April 02, 2013
The Joulebody Detoxifying Meal Replacement Brownie and Ginger bars combine whole food ingredients that kick-start the liver and kidneys into high detox mode. Joulebody specializes in detoxifying and cleansing food products, debunking the all-liquid drink-by-number juice trends that have held the public in thrall for far too long. Joulebody features products whose balanced nutrition and whole food ingredients encourage the human body to perform optimally. Each flavored meal replacement bar contains 290 and 320 calories respectively; each retails for $4.25.
Joulebody Detoxifying Meal Replacement Bars are whole food vegan bars: 14g raw fiber—no wheat, nuts, dairy or gluten. Other ingredients include goji berry, Himalayan salt, maple syrup, hemp, chia, sunflower, flax, pumpkin seeds, dandelion root, turmeric, fennel, and cayenne, The bars work by provoking the body's built in detox system (partly the liver and kidneys), offering the deepest and most effective cleanse without the need to skip food and subsist on juice alone.
Yvette Rose, the mother of two, nutritionist, and acclaimed yogi who founded Joulebody, says, "Shock and starvation are a ridiculous approach to health. The Joulebody Bars are the very first nutrition-dense bars designed with ultra cleansing ingredients. Food is to a body what gas is to a car; the body simply will not perform at its best without proper fuel, particularly during cleansing regimens."
In addition to Detoxifying Meal Replacement Bars, Joulebody is also the maker of the Joulebody Cleanse systems. All Joulebody products are made from 100% natural whole foods.