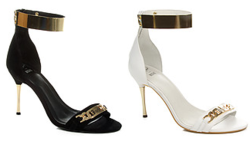 You won't find these heels anywhere else.
Boston, MA (PRWEB) April 03, 2013
Karmaloop, the leading web retailer for streetwear and urban fashion, is unveiling an exclusive collaboration with Jeffrey Campbell, one of the most sought-after labels in urban footwear.
Available only at Karmaloop.com and its sister site MissKL.com, The Jeffrey Campbell Malice Shoe is a stiletto with an elegant feminine structure, a 4.5" inch heel and a bold message engraved on the gold chain detail at the toe.
"This is a one-of-a-kind collaboration," said Joe Farese, Head of Women's Footwear at Karmaloop. "You won't find these heels anywhere else. They've got a very attractive and elegant silhouette, but when you look closely you see this killer message, and you know the woman wearing them is not to be messed with."
Available in allover black suede or white leather, these Jeffrey Campbell shoes feature a zipper closure at the back, gold ankle cuffs and a "F**k Off" message in black text on the gold chain detailing at the toe.
"These are the first shoes available from the Femme Fatale capsule collection I designed from concept to execution, with help from the Jeffrey Campbell team, exclusively for Karmaloop," said Farese. "Ultimately there will be four additional designs in 8 to 10 more colors. But as soon as I saw these Malice Shoes I knew they were going to be popular with our fans and with anyone who loves Jeffrey Campbell, so I knew we had to get them out fast."
The Jeffrey Campbell Malice Shoe is available for pre-order now at Karmaloop.com and MissKL.com, and will begin shipping as early as April 15.
About Karmaloop.com
Karmaloop.com is the leading online retailer for global urban fashion and streetwear, with more than $130 million in annual sales. Representing a wide variety of brands – from skating labels like Diamond Supply Co. and SUPRA to hip hop and urban wear labels like Crooks & Castles and UNIF – Karmaloop receives more than 4.5 million unique visitors from 40 countries each month, and retails more than 500 brands designed for the "Verge Culture" -- a multicultural demographic that is 18 to 34 years-old and often referred to as the first generation that grew up with the Internet. Founded in 2000, the Karmaloop family of websites today includes the internet television station KarmaloopTV, the women's fashion site MissKL, the menswear boutique Boylston Trading Company, the flash-sale site PLNDR, the online skateboard retailer Brick Harbor, and the independent marketplace Kazbah.