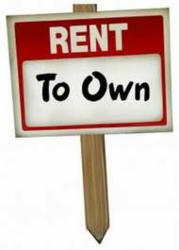 "The many advantages to buying a home as a rent-to-own make it an attractive choice for many buyers in a soft market."
Miami, Florida (PRWEB) April 09, 2013
There are several advantages to buying rent to own homes. When buying a rent-to-own home, the monthly lease option payment could go to work to reduce the price of your future home while allowing the tenant buyer to move into the home without having to qualify for bank financing. Here are some other benefits to buying a rent-to-own home.

The tenant buyer does not need perfect credit. It is understandable that good people can have credit issues and the credit of many people was hurt during the recession. Many buyers may have had some bumps in the road, but they can still move into their own home today and purchase it, in most cases, in as little as 12 to 24 months. That's why a rent-to-own purchase program is becoming so popular among many of today's buyers.
Tenant buyers do not have to get their financing in place right now. Buying a home as a rent-to-own gives tenant buyers time to repair theircredit if needed and save up for a larger down payment. Most home buyers only have 30-45 days to secure their financing. This is not the case with a rent-to-own home purchase where they will have plenty of time to shop for the best rates and terms while they are living in their future home now. This feature of a lease option purchase program could save the tenant buyer thousands of dollars of mortgage payments when you buy the home.
The lease option home price is locked for the term of the lease. It will never go up. Tenant buyers get to "try before they buy," and they don't even have to pay property taxes until they buy the property. Most importantly, they are in full legal control of their future home for the specified period of time, before actually owning it. As part of their agreement, the seller cannot market the property for sale during the term of the lease option, giving the tenant buyer the right to buy the home when they are ready and at a predetermined price.
Privacy is a very important component of lease option programs. The name of the tenant buyer will not be on the deed or in the public records until they exercise their option to buy the home. Yet, they can maintain or improve the property during their lease period which could provide them with greater equity when they purchase the home. Want to install that new kitchen on HGTV last night? No problem, tenant buyers can make the changes they want to the home to truly make it their own.
A great way to build Non-Cash Equity. It's a reality that homes need upkeep. Agreeing to take on certain parts of the home's maintenance while renting can add equity for the tenant buyer. When the tenant buyer pitches in to do repairs or upgrades, the value of the property is enhanced. In addition, by acting as the seller's maintenance resource, the tenant buyer can ask for the value of the work performed be included as an option credit.
For example, if the seller would otherwise need to pay someone $1,000 to make a repair, and the tenant buyer can do the same work for $300, it is not unreasonable for the tenant buyer to ask for a $1,000 option credit, thereby pocketing $700 in sweat equity value in the home.
Buying a home as a rent-to-own is a clear winner for those buyers who are serious about fulfilling their dream of home ownership, but have an obstacle in the way, such as an uncooperative lender, an issue with credit rating or a need to build up a down payment over time. Purchasing a home as a rent-to-own helps tenant buyers to find ways to overcome theses issues. For more information on the benefits of a rent-to-own home purchase contact Calvin Sibley at (786)440-8663 or visit: http://www.RenttoOwnHomesFL.com for up to date rent-to-own homes in south Florida. Calvin Sibley is a licensed Real Estate Broker with Quantum Leap Properties located in Miami, Florida, specializing in lease purchase and rent-to-own transactions.