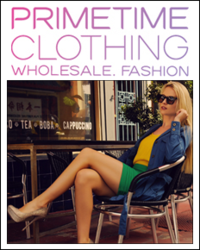 (PRWEB) April 08, 2013
PrimeTime Clothing, the popular online supplier of premium wholesale apparel and accessories, has recently expanded their inventory of plus size wholesale clothing offerings. These new additions are designed to satisfy any social situation with the latest fashion trends. This comes as good news to shoppers across the United States and beyond, seeking the latest in plus size wholesale fashion at low online pricing.
PrimeTime Clothing maintains one of the most extensive inventories of trendy plus sized clothing on the Internet. Their unique assortment of stylish plus size wholesale tops, bottoms, dresses and outerwear are set at some of the lowest priced of its kind, throughout the industry. These options come in a wide range of styles, from beautiful lace knit tops to bold abstract print blouses and more.
Most recently added is a chic new Cream Black Lace Detailed Chiffon Plus Size Top for only $7 per unit or $42 for a package of six. In addition, an all-new Cream Chiffon Plus Size Top is available for only $8.25 per unit or $49.50 for a package of six. Through PrimeTimeClothing.com, customers can peruse their entire catalogue of plus sized, cheap clothing online.
As leading online wholesale clothing distributors, PrimeTime Clothing is dedicated to providing a large variety of the most stylish and fashionable wholesale apparel options at the lowest online prices. They are well sought after by business owners and consumers alike around the world for their premium wholesale dresses, cheap clothes for men, wholesale accessories and much more. As demand for quality plus size wholesale fashion increases every year, PrimeTime Clothing is committed to offering the best assortment anywhere online.
About PrimeTime Clothing
PrimeTime Clothing is an online premium wholesale fashion apparel and accessory distributor with low, discounted prices. Based in Los Angeles, they have high quality goods that arrive daily from hundreds of Los Angeles area manufacturers and importers, so their customers have access to the latest fashions. They have over 25 years of experience in the business of discounted wholesale apparel. They offer additional discounts on top of their already low below wholesale prices. For more information, visit http://www.primetimeclothing.com/ or follow them on Facebook, Twitter, YouTube, Pinterest, Tumblr, Google+, or Instagram.