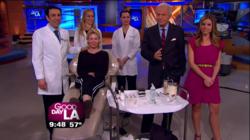 Los Angeles, California (PRWEB) April 02, 2013
According to a March 11, 2013 Dallas Morning News article, facelift surgery that used to require two weeks of recovery can now be performed in under an hour in a doctor's office with relatively minimal downtime. Unlike a traditional surgical facelift, lunchtime facelifts involve not one but several small nonsurgical procedures. These may include Botox injections, laser skin resurfacing, and dermal filler injections (Go to goo.gl/KV0vN).
"I can report that lunchtime facelifts are just as popular in Los Angeles and at Epione," says Dr. Simon Ourian, Medical Director of Epione Beverly Hills. "The lunchtime lift solves two important issues for our patients: the desire for natural looking results and making the best use of their valuable time."
Where a traditional surgical facelift was more suited for men and women in their late 40s and older, the new facelift procedures are targeting men and women in their 30s, a decade during which the first signs of aging become apparent. More patients are opting for elective procedures that allow them to arrest the visible aging signs as soon as they appear.
Depending on the patient's needs and skin condition, doctors may perform one or more nonsurgical procedures to correct wrinkles, uneven skin tone, and sagging and dull skin. Injectable soft tissue fillers are a favorite solution for an instant lift, effectively erasing small lines, various skin depressions and even deep wrinkles. Botox remains the top treatment of choice for lunchtime facelifts, providing instant results and allowing the patient to be in and out of the doctor's clinic in just a few minutes.
"Advantages of the nonsurgical facelift include fewer side effects than the surgical option and faster recovery time," says Dr. Ourian. A traditional facelift is done under general anesthesia which has specific risks."
Dr. Ourian has been a pioneer in laser technology and non-invasive aesthetic procedures including Restylane, Juvéderm, Radiesse and Sculptra. These treatments are used for the correction or reversal of a variety of conditions such as acne, acne scars, skin discoloration, wrinkles, stretch marks, varicose veins, cellulite, and others. More information about the lunch hour facelift can be found on Epione's website.