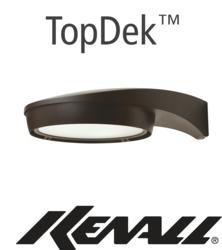 Gurnee, IL (PRWEB) April 03, 2013
Kenall Manufacturing, a leader in the commercial lighting industry, has been named a 2013 Product Innovation Awards (PIA) recipient by Architectural SSL magazine for two products: TopDek™ for Best Retrofit Garage/Low Bay category and EnviroPro™ for the Specialty Lighting category.
"We are honored to receive this prestigious award," said Jim Hawkins, Kenall president and CEO. "This confirms Kenall's commitment to the advancement of solid state lighting solutions. We have long recognized LEDs as a strong and viable source for commercial lighting fixtures – providing tremendous opportunity for dramatic cost savings, intelligent energy reduction and the preservation of natural resources."
Architectural SSL magazine's PIA Awards program was established to recognize innovative developments in LED lighting. A panel comprised of 24 distinguished designers and lighting specialists reviewed submissions based on industry-leading performance and functionality.
The award determines and honors the best LED luminaires on the market, while also recognizing the companies behind the components that make up these light sources. Over 160 entrants were evaluated in the interior, exterior and components categories, with multiple subcategories in each.
The TopDek parking deck and surface lot luminaire was recognized for its traditional design aesthetic combined with high luminous efficacy. Luminous efficacy is rated at 110 lumens per watt, with available color temperatures ranging from 4000K to 5700K, and a CRI of 70. Offering minimized glare, enhanced uniformity and full-cutoff distribution, the fixture has been designed for use with Kenall's SmartSense™ Control System, capable of delivering significant cost and energy savings.
Kenall's EnviroPro Low/High Bay luminaire was recognized for its excellent vertical and horizontal illumination at 97 lumens per watt making it appropriate for big box retail stores, gymnasiums, convention centers and food processing applications. In fact, the lumen output from these low bay and high bay luminaires is equivalent to HID lamp sources, with the added advantages of long life, uplighting, instant re-strike, impact resistance, compatibility with dimming systems, cost and energy savings, and enhanced color rendering.
***
About Kenall Manufacturing
Celebrating 50 years of lighting innovation, Kenall Lighting, located in Gurnee, IL, produces and supports high quality and durable lighting solutions for the most demanding environments. Since its inception in 1963, Kenall has been known for superior quality, exceptional value, and durable solutions, and it is proud to provide sealed lighting for containment or clean spaces, security lighting for detention facilities, and specialized healthcare and transportation applications. Kenall products are designed and manufactured in the USA and meet the guidelines established under the Buy American Act and the North American Free Trade Agreement. For additional information, visit http://www.kenall.com.
###