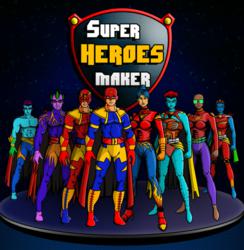 "Seeing Super Heroes Maker take off in only its first week was very encouraging. We have plans for more 2d game development in the near future and are eager to see their success as well," said CEO, Muhammad Waqas of Off-Road Studios.
(PRWEB) April 03, 2013
Leading 360 digital and creative design agency Off-Road Studios, an internationally recognized provider of interactive, creative design and integrated solutions, is proud to announce the release of one of their latest game apps Super Hero Maker.
Off-Road Studios puts saving the world in the hands of each and every person who downloads this app. Game design allows each person to begin by building the character that best reflects their inner hero. They then have the opportunity to apply costumes, powers and special abilities to lead their battle against the enemy robot.
After receiving 3000 downloads on IOS in the first week, Off-Road's iPad development team couldn't be more satisfied with the game's design and success.
The app is free to download on iOS and Android store platforms. Players have access to a wide variety of customizable options, resulting in 257 quadrillion possible unique hero creations that can be further enhanced by applying unique superhuman abilities.
For more information about Off-Road Studios, their expertise and how their iPhone/iPad game development team can work for you, check out http://www.offroadstudios.com/contact or connect with them on Facebook or @offroadstudios on Twitter.