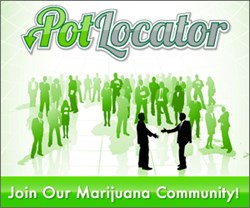 "PotLocator is immensely dedicated to providing patients with compassionate and efficient service, all while remaining within compliance of all states bylaws and regulations. "
(PRWEB) April 16, 2013
Nationally recognized by the medical marijuana industry as one of the more premier and top-tier medical marijuana dispensary, smoke shop, hydroponics and marijuana-related attorney locators on the Internet, PotLocator.com has provided the industry with a reputable and efficient way for patients to locate a safe-access point to medicine. Today, the company announced the addition of two new cannabis-related businesses to their acclaimed clientele roster. Unlike many other marijuana facility locating services on the web, the team at PotLocator is always truthful and reliable within all of their operations, and they are always ready to address all necessary marketing concerns. As PotLocator continues to add renowned canna-businesses to their roster, they continue their mission to provide patients in all legal states with a discreet, confidential and promising safe-access point to their medicine.
The most recent additions of businesses to the PotLocator family include two locations, both of which are situated in the City of Angels: Los Angeles, California. The two of these collectives service California medical marijuana patients with the utmost pride and are comprised of the highest-possible standards in the industry. With California appearing as one of the largest states to have set up a medical marijuana program, there is a constant need for patients to locate a safe-access point to medicine. PotLocator is dedicated to servicing patients in a compassionate and efficient manner, all while remaining within compliance of all states bylaws and regulations.
The Green Leaf is a medical marijuana collective that is located in Los Angeles, California and serves as a safe-access point to medicine for Proposition 215 medical marijuana patients. This location is open six days out of the week with the only exception being Saturday. Typical business hours of The Green Leaf range from ten in the morning to ten at night between Sunday and Thursday, and ten in the morning until 4:20 in the afternoon on Fridays. By boasting a counter of some of the most top-notch and high grade medicine, The Green Leaf has one of the most diverse and extensive menus of medicine in California. They feature over ten Indica strains, eight Sativa strains, five hybrid strains, ten various forms of edibles, and six different types of concentrates. The Green Leaf is always within strict compliance of California's Proposition 215 and California Senate Bill 420, and vows to provide patients with only the most discreet, confidential and completely legitimate access to alternative medicine. Since the initial founding of this location, their goal has been to provide quality medicine to the underserved South Bay Region all while maintaining a humble sense of community. The exceptional patient services provided by this facility are not only limited to the Los Angeles region, as they are extended beyond Los Angeles into the areas of Manhattan Beach, Redondo Beach, Hermosa Beach, El Segundo, the Palos Verdes Peninsula, Inglewood, Hawthorne, Gardena, Carson, Lawndale, Harbor City, Torrance, Lomita, South Bay, and West Los Angeles.
The Secret Garden, also known as 30 CAP Collective, is a medical marijuana dispensary that is located in Van Nuys, California and provides patients in or around that area with some of the most legitimate and safe-access to their medicine. This location is not just an average dispensary, as they boast a shelf of top-notch medicine that features over seventeen Indica strains, seven sativa strains and nine hybrid strains. Aside from their high-quality dry medicine, the Secret Garden also features eight potent concentrates, five different types of edibles and one exceptionally delicious cannabis-infused soda. Clearly when a patient ventures into the Secret Garden, they are becoming exposed to a vast variety and an immense amount of compassion. This collective is always within compliance of all California medical marijuana bylaws, zoning codes and regulations, and fully ensures all patients that they are receiving their medicine in a discreet and welcoming environment. By offering patients a wide range of high-quality medicine at the lowest possible donation, The Secret Garden is Southern California's go-to spot for patients in the Van Nuys area. Note that all services provided at the Van Nuys location are also extended to the surrounding cities of Kester, Gemco, Raymer, Sherman Oaks, Panorama City, Garnsey, Sepulveda, Hewitt and Wahoo.
With a continued sense of passion and sympathy for those who are in dire need of obtaining high-grade medicine or various 420 essential needs, PotLocator takes patients by the hand and guides them towards their appropriate destination. All businesses within the PotLocator network have been approved and evaluated through a series of background checks and initial consultations. Without ensuring legitimacy for the industry, patients would be worried that they are receiving "under the table" services. At PotLocator, they ensure all patients that they are receiving 100% legitimate patient support services without any grey area.