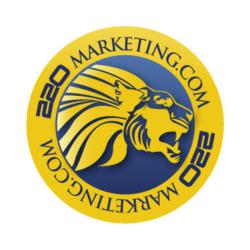 It's pretty clear that there is a buzz about 220 right now judging from the responses that we received at our booth today. As an industry insider, I have yet to see anything close to the marketing system that we have to offer agents and agencies...
San Diego, Ca (PRWEB) April 03, 2013
220 Marketing stole the show in Las Vegas and Los Angeles as they attended their first ever insurance industry trade conventions in the company's 6-year history. 220 earned rave reviews from independent agents and fellow exhibitors alike for proudly offering the 220 Insurance Agent Marketing System. The 220 system is specifically designed to help insurance agents take their businesses to the next level by harnessing the power of the internet.
220's first stop in 2013 was at the Nevada Independent Insurance Agent Convention in Las Vegas, Nevada on January 31st. The company's CEO, Trevor Niarchos, was in attendance to help promote 220 and to explore possible partnership opportunities. According to Mr. Niarchos, "being able to meet the people who ultimately benefit from using the 220 System is extremely important to us. We value the feedback from all the agents and other exhibitors. All the ideas that get shared at these events end up as product or service improvement in future versions of the 220 system."
The second stop that 220 made on its nationwide tour was in Los Angeles, California at I-Day 2013. After the show, Aaron Bowers, one of 220's senior managers, had this to say about the experience; "I-Day 2013 was an awesome opportunity for us to network with agents and agencies from all over southern California. This is our backyard. So it's important that we have a strong presence here. It's pretty clear that there is a buzz about 220 right now judging from the responses that we received at our booth today. As an industry insider, I have yet to see anything close to the marketing system that we have to offer agents and agencies of all sizes."
One thing is certain. The team at 220 Marketing is making a concerted effort in 2013 to be more visible to insurance agents across the nation. Mr. Niarchos went on to say "When you are offering the best and the most affordable system out there, it's all about making agents aware that this option is available to them. The fact is that the entire insurance industry is moving online. Independent Agents know this. 220 offers them the best way to compete against the big nationwide companies. Consequently, the response that we received in Las Vegas and Los Angeles has been very exciting."