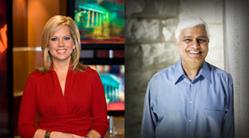 Lynchburg, VA (PRWEB) April 02, 2013
Fox News reporter and Liberty University alumna Shannon Bream ('93) will be the keynote speaker for Liberty's 40th Commencement ceremony on May 11. She is both the first female and the first graduate since Liberty became an accredited university in 1980 to be the marquee speaker at Commencement.
Bream will share the platform with Evangelical apologist Ravi Zacharias who will deliver a brief charge to the Commencement crowd as well. Zacharias will be the featured speaker at Liberty's Baccalaureate service May 10.
"The fact that Liberty University is now able to welcome one of its own alumni as its keynote speaker at Commencement is a clear indication that the university is coming of age and fulfilling its mission of Training Champions for Christ," said Chancellor Jerry Falwell, Jr. "We are proud of Shannon Bream, and it is our privilege to welcome her home and honor her achievements."
Both Zacharias and Bream are accustomed to speaking in front of thousands, whether on camera or live on stage.
A Supreme Court reporter for the Fox News Channel, Bream graduated from Liberty in 1993 before attending Florida State University College of Law to earn her Doctor of Jurisprudence degree. From there, Bream practiced law for a number of years before making her way to broadcast news.
Zacharias, who was born in India in 1946, has written or edited more than 20 books and has spoken in such venues as the CIA, the National Prayer Breakfast, and the universities of Harvard, Princeton, and Oxford. In addition, Zacharias has appeared on both CNN and Fox, hosts a weekly radio program, and is currently the senior research fellow at Wycliffe Hall at Oxford University.
Bream visited Liberty in 2009, speaking in Convocation and at Liberty University School of Law. She has been featured in the Liberty Journal.
Commencement begins at 10 a.m. on Saturday, May 11 inside Liberty University's Williams Stadium and Baccalaureate will take place in Liberty's Vines Center Friday, May 10 at 6 p.m.
"We are expecting record attendance exceeding 30,000 people for Liberty's 40th commencement service in 2013 and are thrilled to be hosting Shannon Bream and Ravi Zacharias," Falwell said.
About Liberty University
Liberty University, located in Lynchburg, Va., is the world's largest Christian university. Nearly 100,000 students attend classes on its 6,800-acre residential campus and study in its thriving online education program.