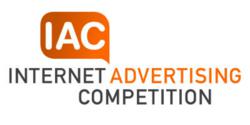 The challenge for marketers is to find ways to capture the imagination of their target audience. — Simon Grabowski, Founder and CEO of GetResponse, winner of IAC Crystal Award
Wilmington, DE (PRWEB) April 04, 2013
GetResponse, the leading email marketing provider, today announced they received the Crystal Award in WMA's Internet Advertising Competition (IAC). The judging panel reviewed 9 online formats in 96 industries and honored an interactive campaign GetResponse used to launch their groundbreaking "Email Creator" email design and editing program.
About the Campaign
The "Just Create" campaign was designed to advertise GetResponse in a way that promotes email best practices and creative approaches to email campaigns. The goal was to engage the GetResponse community by making them active participants in the campaign, not just passive recipients of an advertising message.
"We attract innovative small business Customers who want to create lasting relationships with those in their target market," said GetResponse Founder and CEO Simon Grabowski. "So we chose an advertising approach our community could have fun with — and we provided a venue where they could show off their design skills to a worldwide audience."
GetResponse Customers Help Promote Launch
Contest entrants used the brand-new Email Creator interface to submit their creative email design work. The best 15 entries competed on Facebook for an Audience Award. Contestants promoted their design to their friends and followers, encouraging them to cast their vote using a Facebook app. In addition, a judging panel of industry experts selected 3 grand prize winners.
Enthusiastic GetResponse Community
Voters were entered in a drawing for fun prizes, including souvenir t-shirts. Entrants submitted more than 1,000 designs, competing for $1,000 in prize money, ipads, and one year of free GetResponse service. But the big attraction was the free publicity they received for their designs and for their business.
Publicity for GetResponse
The campaign was a huge success for GetResponse too. The company added 1500 new Facebook Fans plus thousands of Facebook shares and visits to the company website. Best of all, more than 17,000 new free-trial accounts were opened during the contest period, making it one of the most successful promotions in GetResponse history.
"The campaign turned out to be a great demonstration of how marketing works in the new, highly connected online social environment," said Mr. Grabowski. "The challenge for marketers is to find ways to capture the imagination of their target audience. Their enthusiasm can cause a great idea to spread like wildfire."
About GetResponse Email Marketing
The Just Create campaign was one of a series of game-changing innovations released by GetResponse in recent months. The company also designed a system that tracks how a newsletter is shared and re-shared throughout the Web, so marketers can identify and build relationships in new markets. The company continues to develop API apps that integrate GetResponse email marketing with other customer resource management (CRM) programs, content management systems (CMS), social media platforms and mobile devices. And scheduled for release the spring is Autoresponders 2.0, a complete re-design of drip campaigns that enables marketers to automate complex communication cycles with customers and prospects.
All enhancements (and future upgrades) are included at no additional charge with every GetResponse account. Follow link to company website for: GetResponse 30-Day Free Trial.
About GetResponse
GetResponse is a complete email marketing solution with a suite of innovative features including drag-and-drop email and landing page creator, advanced email analytics, email automation and smart list import. Its user-friendly interface, best-in-class 99.5% deliverability and 5-star Customer Service, make it one of the top solutions available in the market, all at an affordable price. The system is fully scalable and can handle everything from small lists for solo entrepreneurs to high-volume email campaigns delivered with superb reliability and 24/7 consulting services. In the past years GetResponse has grown to serve more than 300,000 Customers from 193 countries, managing and delivering 12 billion permission-based emails per year.