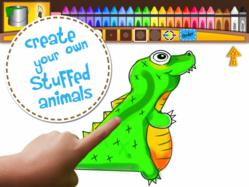 Needham, MA and San Clemente, CA (PRWEB) April 04, 2013
Children's artwork is a window into their wonderful imaginations. There are plenty of apps for drawing and painting, but now for the first time parents can bring their kids' digital creations to life as custom-made stuffed toys.
Award-winning children's app developer Merge Mobile and Happy Doodles, creator of stuffed toys custom-made from kids' artwork, are excited to announce My Own Stuffed Animals.
"My Own Stuffed Animals makes high-tech touchable," says Happy Doodles founder Heather O'Neil. "Kids today are just as comfortable drawing on an iPad as on paper. But they are still kids, and kids are thrilled to see their creations turned into something tangible. That's the magic of My Own Stuffed Animals – bringing kids' imaginations to life."
My Own Stuffed Animals turns children's drawings into stuffed animals in three easy steps:
1. Child draws or paints a picture, or personalizes one of the pictures on the app.
2. Parent submits order.
3. Stuffed animal is custom-made and delivered to the artist's doorstep.
The child's creation is preserved in brilliant color on soft cotton fabric, backed with fleece and hand-sewn. My Own Stuffed Animals are available as keychains for $25, 12" stuffed toys for $50 and 18" stuffed toys for $60.
FROM OUR CUSTOMERS
"I cannot thank you enough. The toy exceeded my expectations and really wowed my younger brother and my family. He loves it. And I must say I do too. You did a phenomenal job and I really thank you for the amazing product! I'm a sincerely ecstatic customer!" - Jennifer
"I sent you a picture of a giraffe that my daughter drew. Your company made the best stuffed animal out of it! Thank you sooo much! It is a gift for my sister. She is severely handicapped and loves to tap soft things on her nose. It is hard to find her things that are easy for her to use to tap...This is perfect! Also, it is extra special because her niece drew the design! Thank you so much for this wonderful gift!" - Katie
"Thank you thank you thank you!!! You have made my little boy's dream come true!" - Lisa
App Pricing and Availability:
My Own Stuffed Animals is a free app that is available for iPad on iTunes in the Education category.
Merge Mobile, Inc. is an award-winning designer and developer of innovative apps and software, specializing in educational apps that make kids smile. For more information, please email info(at)mergemobile(dot)com or visit mergemobile.com. Follow us on Twitter: @MergeMobileInc and Facebook: http://www.facebook.com/MergeMobile.
Happy Doodles, LLC Happy Doodles was founded by Heather O'Neil in 2012. Happy Doodles celebrates kids' creativity by custom-making stuffed toys from children's artwork. To learn more, please email heather(dot)oneil(at)happydoodles(dot)com or visit http://www.happydoodles.com. Follow us on Twitter: @HappyDoodles2 and Facebook: http://www.facebook.com/happydoodles.