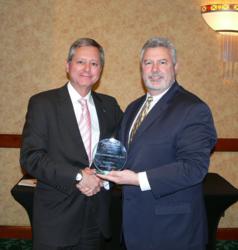 We are in a better position to serve our members and also attract new members now that we have access to this critical data.
Dallas, TX (PRWEB) April 03, 2013
ExperiPro was presented the Small Business of the Year award at the annual meeting of the Richardson Chamber of Commerce, held on March 26th at the Renaissance Hotel. Utilizing their Customer Experience Audit services ExperiPro, led by President David Slatter, provided the Richardson Chamber with membership engagement and loyalty insights and analysis.
"Our members who choose to invest their time in making our Chamber even better are an integral part of our association," said Chamber President and CEO Bill Sproull. "David and the ExperiPro team have been instrumental in providing important insights regarding our members and the needs of businesses in the area."
ExperiPro conducted research among both members and non-members, then analyzed the data and produced reports that uncovered important trends and information for the Chamber to use for strategic planning. Some of the interesting points include 55 percent of Richardson businesses said their business has grown during the last six months, 15 percent of companies plan to hire in the next six months, and 83 percent of members said they were satisfied with the Chamber.
"We are so pleased to be a part of this dynamic organization and are honored to be awarded Small Business of the Year," said David Slatter. "To truly understand the needs of its membership, organizations must adopt a customer-centric approach. Doing so ensures strong focus on delivering value and understanding the needs of the membership. We are certainly happy to have provided this service to the Richardson Chamber of Commerce."
The research is focused on growth in Richardson, the challenges Richardson businesses face and how business people perceive the Richardson Chamber. The phase a business is in often influenced the challenges they reported and their perception of how the Richardson Chamber can help them meet those challenges. Opportunities for networking, resources about doing business more efficiently and supporting the Richardson community were the three highest rated priorities.
"Having a thorough understanding of our member's needs, as well as understanding why businesses may choose not join the Chamber is information worth its weight in gold," said Chamber President and CEO Bill Sproull. "We are in a better position to serve our members and also attract new members now that we have access to this critical data."
About ExperiPro
ExperiPro is an insights-driven growth strategy company based in Dallas, TX. We take an outside-in approach to development by putting the customer at the center of your brand. Our passion is to ensure the voice of the customer is heard in the boardroom, the sales office, the product development labs, and all other areas of the business.
With an eight year track record and a staff of experienced professionals spanning multiple industries, we create powerful and actionable market insights, develop growth strategies and Go to Market programs to fuel profitable and sustainable growth for your business.
Specialties
Customer Satisfaction & Loyalty, Brand Research & Positioning, Touchpoint Analysis, Go to Market Planning & Implementation, New Product Evaluation, Segmentation Modeling.