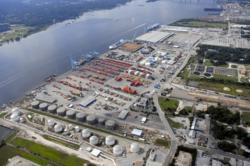 "Most technology is focused on protecting the front door-- as criminals are much aware. Essentially, most crime, whether it be at a mall, hospital or campus, starts with a driver of a vehicle."
New York, NY (PRWEB) April 04, 2013
Thomas A. Cellucci,PhD, MBA, former First Chief Commercialization Officer of the US Department of Homeland Security (DHS) in both the Obama and Bush Administrations, Laurie Aaron, eighteen year veteran in the security industry and member of Security Industry Association Board of Directors and Jeffrey C. Friedman, CEO of Building Intelligence, Inc., a solution provider of vehicle and vendor security programs, have teamed to provide attendees at ISC West an educational seminar on "Vehicle Security Systems: The Next generation in Security Services".
The ISC West Educational Seminar is scheduled for 10AM on April 10th at the Sands Convention Center in Las Vegas and will focus on the advancement of a new generation in security; namely, Vehicle Security. As many facilities have installed access control programs, cctv cameras and DVRs, few have a credible security program to address service entrances, loading docks, or even parking areas. Facilities are most threatened by the potential harm created by vehicles as well as the poor behavior of vendors, particularly uninsured ones. Most technology is focused on protecting the front door-- as criminals are much aware. Essentially, most crime, whether it be at a mall, hospital or campus, starts with a driver of a vehicle. This seminar focuses on both physical and logical techniques to secure a facility. By doing so, our efforts truly support the efforts of the Department of Homeland Security (DHS).
Laurie Aaron, Executive Vice President of Building Intelligence,Inc. will open the session with statistics on car bombs and educate the audience on their history as well as explain what attracts terrorists to this method of attack. Thomas Cellucci, will explain his former roles at DHS, the White House and the continued efforts DHS is making in managing commercial services to secure our country. He will introduce and explain how the Safety Act now influences building owners and facility managers to consider employing services that have a measurable impact on potential liability coverage. One focus of DHS is the protection of facilities and, most importantly, tour people from terrorist acts. Many of these terrorist acts are carried out by vehicles. By employing reasonably inexpensive methods of vehicle security, facility managers can work toward the Safety Act protection.
Jeffrey C. Friedman, CEO of Building Intelligence, Inc. and the former CIO of Shortpath Facility, will explain some of the physical techniques associated with vehicle security; how they are employed and current methods of management. To demonstrate the next generation of vehicle security, Mr. Friedman will be presenting a video and explaining the practice of using cloud-based solutions to provide a logical means to managing physical security. "Empowering guards to make smart decisions about vehicle entry has to be the primary means of managing risk," says Mr. Friedman. He continues: "To make an informed decision, to record that decision, to analyze information, you need tools. The security industry is missing many of these tools; and that translates into a significant opportunity for integrator's, guard companies and consultants. This is the first in a set of educational seminars that we hope has a huge impact on the future of our industry."
Learning Objectives:
1. Mitigate risk associated with vendors access points.
2. Discuss how a cloud-based solution offers an affordable, feature-rich means to addressing problems with integrated location-based assets.
3. Determine how to develop new lines of business, generate incremental business with existing clients and develop a new area of recurring monthly revenue (RMR).
There are many risks lurking at vendor access points, especially those in the back of a facility, ranging from truck bombs, to expired certificates of insurance, etc. Building Intelligence, Inc. is the leading provider of cloud services and enterprise solutions to address these risks and more.
Building Intelligence, Inc. is a New York based information technology and security services provider. The company provides a suite of facility and security cloud-based solutions for managing facilities in many different industries. Scale-able to commercial, residential, government, hospitality, healthcare, stadiums, and performance centers, our cloud-based portal, vehicle security, visitor security and vendor solution is customized to fit the needs of the buildings, the tenants, and the security companies that service those facilities. All of our systems provide streamlined operations, logistics, analysis and comprehensive security protocols that provide people, property and business with an ideal combination of services. Visit us online at http://www.buildingintelligence.com.