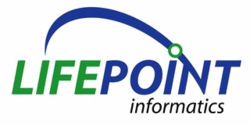 Where performance and reliability meet.
Glen Rock, NJ (PRWEB) April 04, 2013
It's the kind of war you look forward to going to: Lifepoint Informatics, a leader in health IT, will sponsor and participate in the upcoming Executive War College Conference on Laboratory & Pathology Management in New Orleans, April 30-May 1. The 18th annual industry conference brings together lab administrators and pathologists from around the world to share practical methods for improving the organizational performance and financial success of labs.
Lifepoint Informatics has served as a sponsor or "corporate benefactor" for two years and has participated in the lab and pathology management conference for 14 years.
With more than 650 people from 10 countries, this year's Executive War College conference includes more than 80 sessions that focus on best practices in lab operations, healthcare reform legislation, analysis of existing business models, new opportunities for labs and clinical groups, and a variety of other issues and opportunities facing labs today.
"We are honored to serve as a corporate benefactor for this highly regarded conference, and we look forward to sharing our healthcare innovations while learning from some of the best in the business," said William Seay, ceo, Lifepoint Informatics. "We think this cutting-edge event provides the perfect showcase for our unique technology services and solutions, and we always enjoy connecting with our peers across the industry."
This year's annual event will be held at the Sheraton New Orleans Hotel and includes a two-day conference and an additional day of special workshops.
Lifepoint Informatics' mission is to help healthcare providers improve patient care and lower costs through the use of information technology by enabling customers to integrate disparate healthcare information systems and improve the communication, accuracy and flow of clinical information. Lifepoint's solutions can improve the quality of patient care at a reduced cost, achieving positive return on investment.
"Lifepoint continues to expand the services we provide for hospitals and labs, including health information exchange, outreach connectivity, portals for physicians and quality reporting, just one of the reasons we enjoy networking, sponsoring and joining in such distinctive industry conferences," Seay added.
About Lifepoint Informatics
Lifepoint Informatics is a leader in healthcare IT focusing on laboratory outreach connectivity, health information exchange and clinical data interoperability to help healthcare providers improve patient care and lower costs through the use of information technology. Since 1999, Lifepoint Informatics has enabled more than 200 hospitals, clinical labs and anatomic pathology groups to grow their market share and extend their outreach programs through the deployment of its ONC-ATCB certified Web Provider Portal and its comprehensive portfolio of ready-to-go EMR and EHR interfaces. For more information, please visit http://www.lifepoint.com.