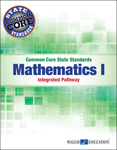 (PRWEB) April 04, 2013
An independent analysis of Walch Education's Common Core State Standards Integrated Pathway: Mathematics I program determined that the course materials were "completely and precisely aligned to the Common Core State Standards."
Walch's Math I program is a comprehensive set of instructional materials, developed from the ground up using the CCSS Integrated Pathway curriculum map and the Mathematics I course descriptions. The components are designed to support all students in meeting the standards encompassed by the Mathematics I course.
The 2013 Common Core alignment study, completed by Lothlorien Consulting of Wakefield, New Hampshire, compares "each Common Core standard for Integrated Pathway I to the content of the teacher and student resource materials to determine the degree to which the lessons provide opportunities for students to learn, practice, and apply the full range of knowledge and skills specified by each standard." The conclusion was that Walch's Math I program is 100% aligned to the Common Core State Standards for the Mathematics I Integrated Pathway.
As new materials labeled "Common Core" flood the market, many teachers and curriculum leaders are trying to identify resources that are truly aligned to the new standards and practices rather than just being repackaged as such. "District curriculum leaders and teachers around the country have expressed their frustration with products that don't attend to the CCSS content standards and mathematical practices. We understand how critical this issue is, and have developed our resources from the beginning to support and empower teachers as they implement the CCSS," said Al Noyes, President of Walch Education.
A similar Math II program is currently in development at Walch Education and is scheduled for release in June 2013. In addition to CCSS alignment, Walch focuses on producing materials that will engage students and that allow students at all levels to achieve success.
About Walch Education
Walch Education extends and enhances learning with innovative, flexible solutions for middle school, high school, and beyond, addressing both Common Core and state standards. Walch Education develops aligned, accessible, and affordable products for online, digital, and print through an in-house team of experts and educators, in partnership with leading schools and districts nationwide. For more about Walch Education, visit walch.com.