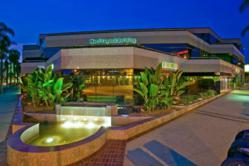 San Diego, CA (PRWEB) April 03, 2013
This small group fitness class brings together kids ages five to eleven years of age to teach them the fundamentals of yoga. Teaching children at a young age how to stretch properly and engage in body weight strength training is believed to help inspire a healthy lifestyle in adulthood.
Parents of the health club's Yoga for Kids group fitness class believe if their children learn at a young age to enjoy exercise, how to stretch properly, and are taught breathing exercises; that they will be better positioned throughout their adult lives to cope with the stresses of daily life.
Studies show that breathing through your nose decreases blood pressure and slows your heart rate. In traditional yoga classes breathing deeply through your nose throughout an entire class is important and helps to ease tension in your body as well as helps to relax the mind. The idea behind Yoga for Kids is that children can also benefit from concentrated breathing through their nose while learning to enjoy exercise at a young age.
Yoga for Kids instructor, Courtney Buffington, has been teaching yoga for over 20 years. She is the founder of Cocos Creative Kids Camp and has taught hundreds of children in the San Diego School System. Courtney aims to have her yoga classes not only inspire a healthy lifestyle at a young age but she also wants classes to be fun for the kids.
The La Jolla Sports Club offers several different traditional yoga classes in addition to Yoga for Kids including Hatha yoga, Vinyasa yoga, and Yoga Sculpt. Classes are offered throughout the week at different times of the day to accommodate all personal schedules of club members. As more research and evidence continues to surface regarding the benefits of yoga and exercise at a young age; yoga instructors at the club expect to see more parents enrolling their children in Yoga for Kids.
About La Jolla Sports Club
La Jolla Sports Club is the ultimate place for fitness and well-being in the San Diego area. Clients can choose from a number of unique fitness programs and classes instructed by the most skilled and highly credentialed trainers. The La Jolla Sports Club also offers excellent La Jolla day care and spa services for busy parents.
La Jolla Sports Club has various membership options available for interested parties. For more information, call 858-456-2595 today.
###