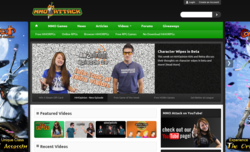 San Diego, CA (PRWEB) April 08, 2013
MMO Attack, a gaming website and video channel that focuses on massively multiplayer online role-playing games (MMORPGs), continues to work closely with game developers and publishers to bring new giveaways for fans of MMORPG and RPG games.
MMO Attack, a leading gaming website that focuses on massively multiplayer online role-playing games (MMORPGs), celebrates a successful month of March by releasing a new game giveaway every two days (on average). The team at MMO Attack works with game developers, publishers and PR agencies to find out what they are willing to offer to fans to entice them to start playing or continue playing some of the most popular games in the genre.
"During the month of March we released 15 different giveaways," said Kirk Wallace, MMO Attack's Editor-in-Chief. "We had everything from closed beta keys, to closed beta items, newbie game items, weapon code giveaways and more. It is always a blast to find something that the fans can enjoy and bring that to them absolutely free."
Many of the giveaways featured on MMO Attack were exclusive only to the site and could not be found anywhere else. Many popular games were featured on the MMO giveaways section including: Scarlet Blade from Aeria Games, World of Warplanes form Wargaming.net, and Kartuga from InnoGames.
MMO Attack strives to provide new giveaways as often as possible and wants to give not only fans of the site new games and items to play, but anyone who happens to stumble across the site something to look forward to. The MMO giveaway section continues to be one of the most visited pages on the site and the team hopes to continue to bring valuable content to the users.
About MMO Attack
MMO Attack specializes in the delivery of free online MMORPG games. A team of highly skilled writers and gamers that take in-depth looks at MMO and MMORPG games and provide thoughtful and helpful news, reviews, gameplays, videos, commentaries and more. MMO Attack is an innovator in the field and constantly strives to deliver content in new and exciting ways.
###