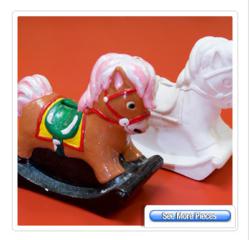 "We could identify 100 new locations in short order." - Mark Selvaggi, Owner
Somerville, MA (PRWEB) April 04, 2013
Nearly twenty years ago, the Selvaggi Family opened their first plaster studio with a simple but powerful philosophy - let kids be creative and let them do it their way. Nine stores and thousands of smiling children later, the Selvaggis are ready to share the remarkable plaster painting experience they have developed with the rest of the country and, indeed, internationally.
Through the myriad of societal changes over two decades, the appeal of Plaster Fun Time continues unabated. New stores quickly become part of the fabric of the community and the "place to be" for birthday parties, afterschool outings, Scout Troops and many other gatherings. Soon, individual kids drop in with a friend to paint their favorite plaster piece in whatever colors and patterns fit their mood that day.
Plaster Fun Time has always been a unique children's experience. No other company in the U.S. has built a chain of plaster painting studios with such commitment to a consistent and quality experience while maintaining the core philosophy of leaving the creativity solely to the children. Plaster Fun Time employees are trained to deter Mom and Dad from taking the paint brush and taking control and it has worked. It has worked so well that former customers who have grown up and started their own families now bring a second generation of painters to the stores. The experience, they find, is still as excellent and fulfilling as when they were young.
"I'd be willing and excited to help a growth oriented successor to roll Plaster Fun Time out across New England and then the country," says Mark Selvaggi, President. "We could identify 100 new locations in short order. But that kind of growth, to be done right, requires people and capital." Mark is only interested in working with companies ready to fuel the Plaster Fun Time growth strategy.
Realizing that finding the right partner or buyer will take time, Mark and his family have continued to operate the stores as they always have. A new store in Saugus opened in 2010 and has been very successful, and if a new location presented itself, Mark would consider opening store #10. But for now the search is on for someone who can support much faster growth.
Plaster Fun Time is represented by Paul Siegenthaler of Ridge Hill Partners, Inc. Ridge Hill Partners is a boutique merger and acquisition intermediary firm with offices in Needham, Massachusetts.