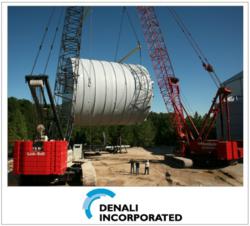 Denali Incorporated is excited about our partnership with the Fibra S.A. management team and employees. Fibra's leading position in South America, joined with Denali's current technology, offers significant growth opportunity. –Robert Bennett, Pres/CEO
Houston, TX (PRWEB) April 12, 2013
Denali Incorporated announces its recent international acquisition of Fibra. S.A. located in Santiago, Chile, South America.
Fibra S.A. operates closely with Ershigs, Incorporated, subsidiary of Denali Incorporated. Denali and Ershigs officials have positioned the acquisition as an expansion to improve the company's position in serving the Metals/Mining, Pulp/Paper and Power/FGD industries in South and Central America.
In this partnership, Fibra has the advantage of obtaining Ershigs proprietary technology and equipment developed for the design, manufacture and construction of Fiberglass Reinforced Plastic (FRP) composite tanks, scrubbers, stacks and chimney liners, and piping products which are used in corrosive chemical service applications.
Additional technology and capabilities are in the plans for the continued growth between the Denali companies and Fibra.
About Denali Incorporated
Denali Incorporated, founded in 1994 is the pioneer and industry leader in developing solutions for manufacturing, construction and expert handling of critical fluids worldwide. Denali is the parent company to Ershigs, Inc., Belco Manufacturing, Containment Solutions Inc., and Fabricated Plastics Ltd. Denali is a privately held company with eleven FRP manufacturing facilities, and a Specialty FRP Construction Division.
About Fibra S.A.
Fibra S.A., founded in 1988 by Mr. Rodrigo Gumucio and Mr. Francisco Espinosa – and it is a leader in the custom FRP industry of South America. Fibra's corporate office and manufacturing facility are located in Santiago, Chile and in addition to FRP manufacture, Fibra's production capabilities include rotational molded polyethylene products and non-municipal water and waste water treatment plants. Under Denali Inc., the Fibra S.A. company name will remain. Mr. Gumucio and Mr. Espinosa continue to manage Fibra's daily operations. Website is: http://www.fibra.cl/
About Ershigs, Inc.
Ershigs, Inc., founded in 1935, is the leader and innovator in the FRP industry in North America. The company is a recognized Specialty Contractor involved in onsite manufacturing and construction of turn-key FRP projects. Ershigs corporate office is located in Tulsa, OK with manufacturing locations in Bellingham, WA; Grand Bay, AL; Iuka, MS; Ridgefield, WA and Sarnia, Ontario Canada. Ershigs has the ability to mobilize globally, addressing large diameter FRP field winding and construction projects. Website: http://www.ershigs.com/
For additional information contact: Chaun Trenary, V.P. Marketing & Sales at:
480 926-5782 or ctrenary(at)ershigs(dot)com.