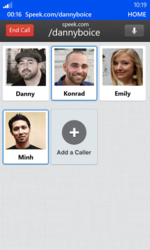 Washington, DC (PRWEB) April 03, 2013
Speek.com, a platform for easy and visual conference calls, today announced it has launched a Windows 8 phone app for free, visual and mobile conference calls.
Speek plans to permanently rid the world of PINs and elevator music. Since its beta launch last year, Speek has experienced rapid growth and founders Danny Boice (CTO) and John Bracken (CEO) quickly saw the need to reach business users who were on-the-go, whether taking a meeting while stuck in traffic or on vacation.
Speek presented at Distilled Intelligence 2.0, the pitch competition created by Fortify.vc and sponsored by Microsoft. The company took first place at the competition, and after, continued to work with Microsoft's Biz Spark team for resources to build the Windows app. "We're putting out our Windows 8 app even before Android," said co-founder and CEO John Bracken. "We feel it's important to reach the Windows 8 demographic early and be at the forefront of the innovations the Windows 8 platform has to offer."
The Speek Windows 8 mobile app allows users to choose an easy-to-remember username, instead of fumbling around for a traditional phone number and PIN. Participants talk instantly with one-click calls and no elevator music. Speek also makes it easy to add the contacts already in your phone to the call via text, email or a calendar invitation. Once on the call, users can see who's joined, who's talking, share images from their phone, as well as mute and remove participants.
Looking forward, co-founder and CTO Danny Boice sees many key advantages to working with the Windows 8 platform. "It's key to be able to port our code to any Windows 8 platform from the phone to the tablet to the desktop, and that's exactly what we intend to do. Not only will we support the Windows 8 phone, but also plan to extend our products to support both the tablet and computer as well."
The Speek Windows 8 phone app is free and available here:
http://www.windowsphone.com/en-us/store/app/speek/45f45257-4223-4838-8dda-532d43218d3f
About Speek
Speek is easy, free and visual conference calling. Use a personal or business link (i.e., speek.com/YourName), instead of a phone number and PIN for conference calls. Nothing to download and no elevator music. See who's joined, who's talking, share files, use call controls and more. Reserve your free Speek link at http://www.speek.com.