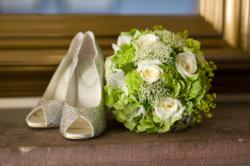 Newport Beach, CA (PRWEB) April 03, 2013
As the average cost of weddings increase to over $27,000 each, so too have the number of ways to save money planning them. While guests love an open bar wedding, many couples are unable to fit the perk into their already constrained budget, especially since an open bar is one of the most expensive catering options for a wedding. As such, couples have been turning to open bar alternatives.
Lucky for them, there are tactful ways to serve drinks sans the expensive bill. According to a Huffington Post article, couples can save money by serving signature drinks or choosing a brunch bar in lieu of a full open bar (Huffington Post). Signature drinks can be customized to creatively represent a couple (or at least match their wedding colors) and incur a much lesser cost than an open bar. For those who need a bigger reprieve from wedding costs, having a wedding during brunch hours not only saves on venue expenses but on drink expenses as well. Typical brunch cocktails such as mimosas can be served in place of a full bar and will ultimately soften the bill.
"Signature drinks and brunch bars can save couples upwards of thousands of dollars," says Brett Reynolds, CEO of Wedding.com. "Wedding caterers can always help a bride and groom figure out what kind of drinks can be served without breaking the budget. Guests will hardly even notice there is no open bar."
For more information about Wedding.com, please visit http://www.wedding.com.
About Wedding.com
Wedding.com is an innovative new website that connects engaged couples planning their wedding with wedding vendors looking to grow their business. Wedding.com contacts vendors for couples, giving them the power to compare and negotiate while ultimately saving time and money. With 12,000 couples and 22,000 vendors currently using the website, 105,000 proposals have already been sent since their inception. Vendors range in services from wedding planners, photographers, florists, and DJs to custom invitations, party favors, and much more. For additional information about the company and its services, please visit http://www.wedding.com.