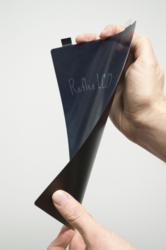 Kent, Ohio (PRWEB) April 03, 2013
Kent Displays announced today that Reflex eWriter LCDs are now available as an OEM (original equipment manufacturer) component for integration into a wide variety of third party products and devices including consumer electronics, appliances, furniture, vehicle dashboards/visors, toys and fashion apparel/accessories.
Reflex eWriter LCDs are used as the writing surface of the highly popular Boogie Board LCD eWriters manufactured by Improv Electronics, a unit of Kent Displays. Boogie Board LCD eWriters are the eco-friendly, electronic paperless replacement for memo pads, sticky notes, scratch pads, note books and other writing and drawing mediums.
Reflex eWriter LCDs provide a reusable writing surface with a user experience comparable to pen on paper. Almost any writing instrument can be used to create an image – even your finger. All Reflex LCDs are made on flexible plastic substrates and reflect ambient light to produce an image. They use no power to retain an image and only a small amount to change/erase it. Reflex LCDs are made in the U.S.A. in Kent, Ohio.
Two architectures are available for Reflex eWriter LCDS: basic (no memory) and advanced (memory). The advanced architecture includes a digitizer behind the LCD to capture written and drawn images that can then be saved to memory and transferred to a computer. This architecture allows the LCD to be used as a note, composition or sketch book. The advanced architecture is used in the popular Boogie Board Rip LCD eWriter, a digital note-taking device that allows users to save over 200 pages of notes at a time and upload the files to a computer as editable vector PDFs.
The basic Reflex eWriter LCD architecture, which is used in the Boogie Board Original 8.5 LCD eWriter and the new Boogie Board Jot 8.5 LCD eWriter, does not include a digitizer and typically replaces a memo pad, sticky note or dry erase board.
Reflex eWriter LCDs are available in three standard rectangular sizes (4.5 in., 8.5 in. and 10.5 in.; measured diagonally). Custom shapes and sizes are also available.
Contact your local Kent Displays sales representative for pricing and additional product information.
About Kent Displays
Founded in 1993, Kent Displays, Inc. is a world leader in the research, development and manufacture of Reflex No Power LCDs for unique, sustainable applications including electronic skins, eWriters, smartcards and eReaders.
For more information about Boogie Board eWriters, go to http://www.improvelectronics.com.
Boogie Board, Boogie Board Rip, Boogie Board Jot, Reflex and Improv are trademarks of Kent Displays, Inc.