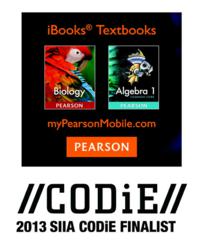 New York, NY (PRWEB) April 02, 2013
Pearson's interactive suite of iBooks Textbooks is a finalist in the 2013 Software & Information Industry Association (SIIA) CODiE Awards. Pearson's books for iPad are the only iBooks textbooks to earn finalist status in this year's prestigious awards. The suite is recognized in the Best Educational Use of a Mobile Device category.
Established in 1986, the CODiE Awards celebrate outstanding achievement across the software, digital information and education technology industries. This year, nominated ed-tech products underwent an intensive review by educator judges from around the world.
Pearson iBooks Textbooks are fully interactive digital books featuring the company's respected learning content brought to life with video, audio, assessment, interactive images and 3D animations to personalize learning in a whole new way.
The titles re-imagined for iPad include "Miller & Levine Biology," "Environmental Science: Your World, Your Turn," "Chemistry," "Common Core Geometry," "Common Core Algebra 1" and "Common Core Algebra 2." The suite contains approximately 7,000 pages of learning content, 1,000 interactive widgets (including 3D animations and keynote presentations), more than 100 videos and 5,000 self-test questions so that students can check their understanding.
Pearson iBooks Textbooks' strategically designed and chunked content focuses students' attention on one concept at a time with interactive elements that engage and empower them to master tough subjects. Students see math and science unfold before their eyes with robust animations, videos and interactives that are personal and actionable with a simple swipe of the finger. They investigate 3D objects from different angles, explore beautiful graphics and dive deeper into topics. By viewing chunked content, students can tap on new concepts or ideas at their own pace and access videos and animations at the ideal point in learning for them.
Pearson topped the 2013 CODiE Awards for education with 14 programs earning finalist honors. From classroom management and teacher professional development to virtual and mobile personalized learning solutions, Pearson's CODiE finalists are a testament to its commitment to developing innovative education technology solutions that improve student achievement.
In addition to the company's suite of iBooks Textbooks, Pearson's products moving on to the next round of competition in this year's CODiE Awards include digits, EQUELLA, iLit, Lab Investigator Tools, MyEconLab with Knewton Adaptive Learning, MyFoundationsLab, MyMathLab with Knewton Adaptive Learning, OpenClass, Pearson Teacher Compass Suite, PowerSchool, Prep for the GED Test: MyFoundationsLab Edition, Propero and Schoolnet.
Pearson iBooks Textbooks and all finalists will now be voted on by the entire SIIA membership to determine the winners in each category. The 2013 CODiE Award winners will be announced at the 2013 Ed Tech Industry Summit in San Francisco on May 6.
For more information about Pearson iBooks Textbooks visit: http://www.mypearsonmobile.com.
About Pearson
Pearson, the world's leading learning company, has global reach and market-leading businesses in education, business information and consumer publishing (NYSE: PSO).