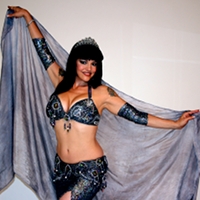 "Beaumont is lucky to have such an amazing international talent coming to perform for us," said Michele Harrington owner of The Belly Dance Studio
Beaumont, Texas (PRWEB) April 04, 2013
Can Southeast Texas be ready for star-powered shimmies of this magnitude?
The Belly Dance Studio, Beaumont's only studio dedicated to the art of Middle Eastern dance, is proud to announce that Princess Farhana will be in Beaumont for a series of workshops and performances from April 16th through the 21st.
Princess Farhana is an internationally acclaimed dance star who has performed live at concerts with Arabic superstars Amr Diab, Ragheb Alama, Hakim, Natacha Atlas, and Alabina, as well as at private events for celebrities and dignitaries such as former First Lady Hillary Clinton, The Saudi Arabian Royal Family, and The Rolling Stones, among many others.
The workshops begin with an artist in residence series hosted at The Belly Dance Studio's west end location. Princess Farhana will be available for private and semi-private sessions, as well as teaching two specialty workshops on Burlesque and Vintage Orientale Performances on Wednesday and Thursday nights, respectively. Class sizes will be limited, and open to students of all levels of expertise.
On Saturday, the workshops move to Big Rich Courville's on Highway 90 in Beaumont. Here, Princess Farhana will teach two workshops geared toward belly dancers of all levels: beginner to professional.
These classes will feature Princess Farhana's mind-boggling abdominal work and ability to layer movements; skills belly dancers from around the world constantly seek out. Later in the day, Farhana will expand dancers' repertoire with a session devoted to belly dance combinations, presented with the her iconic Hollywood flair.
Saturday night at Courville's, Princess Farhana will perform alongside select artists from throughout Texas and Louisiana. Courville's uniquely intimate setting provides the perfect environment to showcase the diversity of the art belly dance. In addition, a Middle Eastern inspired meal will be served and is included with your ticket purchase.
On Sunday, Princess Farhana will impart the wisdom of beauty she has learned from countless hours performing, modeling and acting in Hollywood, California. Her Glamour Garage workshop will cover posing, makeup techniques, and all of the skills to make you or your clients feel like a vision of true Hollywood glamour.
Perfect for any performer, actress or dancer, participants can purchase a photoshoot with premier Beaumont photographer Brandon Gouthier, coached by Princess Farhana following the "Strike A Pose: How To Make The Camera Love You" workshop.
Most workshops are open to students of all ages, sizes, genders and experience levels. For more information, come by our location, call (347-8111, or visit TheBellyDanceStudio.com
Contact:
Christina Jones, Marketing Assistant
marketing(at)hipmix(dot)net
(409) 347-8146