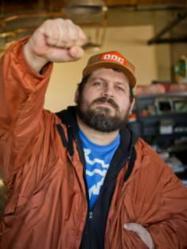 San Diego, Calif. (PRWEB) April 03, 2013
Aaron Draplin of Draplin Design Co., North America, brings his irreverent style to San Diego in talking about launching his own graphic design firm and other entrepreneurial adventures in the design world. Draplin is a guest lecturer at NewSchool of Architecture and Design (NSAD) April 10, 2013 at 7 p.m. The free event is part of the San Diego school's Lecture Series that brings architects and designers from around the world. A limited number of seats can be reserved for members of the public who RSVP to the event by April 9.
Who: Aaron Draplin started his own firm, Draplin Design Co., North America in 2004 and has developed a client base that includes Ride Snowboards, Forum Snowboards, Grenade Gloves, Chunklet Magazine, Cobra Dogs, and Absinthe Films. His design background in logos, graphics and other design projects includes working at Snowboarder Magazine as art director, and during his time there he won "Art Director of the Year" for Primedia 2000. His firm is based in Portland, Oregon.
Lecture Title: Tall Tales From a Large Man
About the Lecture: Aaron James Draplin of Draplin Design Co. delivers a suckerpunch of a talk that aims to provide bonafide proof of work, the highs and lows of a ferociously independent existence and a couple tall tales from his so-called career in the cutthroat world of contemporary graphic design. His talk is open to all oncomers brave enough to show up. If you are a youngster, you may find yourself inspired to attack your design future in a different way. If you are established, you may just leave feeling grateful you don't have anything to do with him.
When: April 10, 2013 at 7 p.m.
Where: NewSchool of Architecture and Design Auditorium. 1249 F Street, San Diego, CA 92101.
**Priority seating given to NSAD students, staff and alumni, and board members. Members of the public must RSVP to PR Manager Anna Cearley for additional information and directions: acearley(at)newschoolarch(dot)edu or 619-684-8791**
About NSAD's Lecture Series: NSAD's lecture series brings inspiring and innovative designers and architects from around the United States and the world to campus as part of the school's mission to enhance global design education opportunities for its students and the community. Read about our NSAD Lecture Speakers.
About NSAD's Digital Media Arts Program: The Digital Media Arts Program(DMA) at NewSchool of Architecture and Design is committed to giving students a significant study-abroad experience as part of the specializations offered in graphic design and interactive design. Both our Graphic Design and Interactive curricula have been developed in cohort with Media Design School in Auckland, New Zealand, which is recognized around the world for its high-quality digital arts education, particularly in the areas of animation, interactive media, game development, and design. Students in the DMA Program at NSAD will have opportunities to study at well-renowned universities around the world that are part of the Laureate International Universities network, starting out with the chance to spend a term at the Media Design School.
Learn about scholarship opportunities to study digital media arts at NSAD: http://www.newschoolarch.edu/tuition-financialaid/scholarships-awards.html#DMA