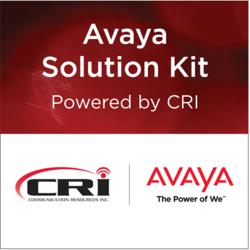 ASK is exactly what we needed! Now we can actually demonstrate all of this amazing technology easily, efficiently and quickly
Farmingdale, NJ (PRWEB) April 04, 2013
CRI's VP of Engineering and Solutions, Scott McKechnie says, "CRI is excited to have Jabra on board, providing additional value to our partners while utilizing the demonstration kit. The Speak 510 is easy to set up and delivers excellent audio quality. Now partners can immediately demonstrate the audio quality of Avaya voice solutions. We are looking forward to providing the very best experience to our customers and partners."
CRI's Avaya Solution Kit (ASK) demo kit delivers Avaya's Aura Core & Applications in a single portable suitcase. The kit is designed for demonstrations, training, or other non-production environment uses. ASK powers up and is ready to use in 15 minutes or less, providing you with fast, efficient, and effective presentations. The Kit is intended for demo purposes and not for resale or production.
"Jabra is pleased to team up with CRI to help complete the extraordinary ASK demonstration kit. Jabra is also offering an additional 5 free Jabra audio devices to partners that purchase the ASK ," stated Bill Orlansky, Jabra's Director of Strategic Alliance Marketing. "All of Jabra's end points are DevConnect compliant to ensure seamless integration with all Avaya voice applications. This promotion is not only available for partners requiring devices for demonstrations, but qualified customers can also receive a mix of free demo units designed for their specific trials."
About Jabra
Jabra employs approximately 900 people worldwide and in 2012 produced an annual revenue which amounted to DKK 2,355 million. Jabra is a world leader in the development, manufacturing, and marketing of a broad range of hands-free communications solutions. With a reputation for innovation, reliability, and ease of use that goes back more than two decades, Jabra's consumer and business divisions produce corded and wireless headsets, plus mobile and in-office speakerphones that empower individuals and businesses through increased freedom of movement, comfort, and functionality.
About CRI
CRI is the premier VMware Virtual Solutions builder and Unified Communications integrator. We focus on the application side of communications providing cutting edge solutions to our customers while offering exemplary service and unmatched results. CRI's VMware cloud-based offers, UCloud, addresses the virtual environmental needs of the customer while also giving the channel partners the opportunity to capitalize on these needs with new service-based offers. CRI is a system integrator, professional service provider, an Avaya Gold DevConnect partner and Partner of the Year winner 2012 for Avaya. CRI partners with IBM, Microsoft, Citrix, and is a certified VMware Enterprise Solution Provider.
CRI Delivers Tomorrow's Technology Today!
Visit us at http://www.crinj.com