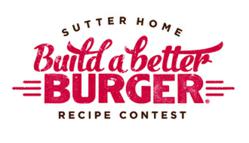 "After more than 20 years of tasting burgers for our Sutter Home Build a Better Burger Recipe Contest, we continue to be impressed by the creative burger recipes and how well they pair with our portfolio of Sutter Home wines."
St. Helena, CA (PRWEB) April 02, 2013
Sutter Home Family Vineyards today announced the launch of the 2013 Sutter Home Build a Better Burger Recipe Contest, which invites non-professional chefs to submit their own original recipes for a chance to win the $100,000 grand prize for the best beef burger or $15,000 for the winning alternative burger. Contest judges will be looking for creative, flavorful burger recipes. Recipes can be entered at http://www.sutterhome.com or the Sutter Home Facebook page by casual cooks from all over the country, including California residents, who can once again enter the recipe contest after recent changes in state laws.
"After more than 20 years of tasting burgers for our Sutter Home Build a Better Burger Recipe Contest, we continue to be impressed by the creative burger recipes and how well they pair with our portfolio of Sutter Home wines," said Wendy Nyberg, senior director of marketing for Sutter Home. "This contest is exciting because it was created for everyone; from young professionals who love hosting dinner parties to those who enjoy BBQs with their grandkids. With summer grilling season just around the corner, we encourage everyone to submit their recipes, or to try out one of our past recipes with family and friends."
In addition to announcing the call for entries for the 2013 recipe contest, Sutter Home also reveals the panel of expert judges who are tasked with selecting the 2012 Sutter Home Build a Better Burger Recipe Contest winner to conclude the contest launched last year. The 10 finalists for the 2012 Sutter Home Build a Better Burger Recipe Contest were announced in January, and are preparing to wow the judges in a head-to-head cook-off at the Sutter Home Winery in St. Helena, Calif. on May 18.
The 2012 Sutter Home Build a Better Burger Recipe Contest judges include:
James McNair, bestselling author of more than 40 cookbooks, has been head judge for the Sutter Home Build a Better Burger Recipe Contest since the contest began in 1990, and now also serves as Honorary Chairman of the recipe contest. To celebrate the contest's 15th anniversary in 2005, McNair wrote Build a Better Burger, a book about the recipe contest and cook-off which includes all winning recipes up to that point. For the 20th anniversary, McNair co-authored, along with former Sutter Home Executive Chef Jeffrey Starr, Burger Parties, a collection of 16 themed parties with each starring a finalist recipe from the contest.
Steven Raichlen is a multi-award-winning author, journalist, cooking teacher and TV host, and is often acknowledged as the man who reinvented barbecue. His internationally bestselling books include Planet Barbecue, The Barbecue Bible and How to Grill. Five of his books have won James Beard awards, and three have received awards from the International Association of Culinary Professionals. Raichlen is also the founder of Barbecue University™, a unique cooking school offering three-day intensive courses on live-fire cooking that has been hailed by The Food Network as the "#1 Barbecue Experience in the U.S." Bon Appetit magazine named him "Cooking Teacher of the Year." Raichlen's popular "Barbecue University" and "Primal Grill" air on PBS and he has a French language grilling show called "Le Maitre du Grill." Raichlen also battled and defeated Iron Chef Michiba in a "Battle of the Barbecue Gods" on Japanese television.
Katie Chin is an Asian food expert, cookbook author, TV host, and food blogger. She is co-author of "Everyday Chinese Cooking," "300 Best Rice Cooker Recipes'' and "Everyday Thai Cooking" (coming from Tuttle Publishing in August 2013). Chin co-hosted the national 2003 PBS cooking series "Double Happiness" alongside her mother, Leeann Chin. She has also made numerous appearances on national TV including "Iron Chef America" and specials for The Food Network and Cooking Channel. Chin was a featured celebrity chef at the 135th White House Egg Roll. She divides her time as the Culinary Ambassador to City of Hope, blogger of The Sweet and Sour Chronicles and as a food and beverage consultant.
Kevin Kolman is the Weber Grill Master, from Weber Stephen Products LLC, a 2012 Sutter Home Build a Better Burger Recipe Contest sponsor. As the Weber Grill Master, Kolman is the company's go-to guy for all grilling techniques, products and questions. Although he has grilled more than 10,000 burgers, his goal is to not only inspire people, but also show them that their grill is an extension of their kitchen. Based on his commitment to education and passion for grilling, Kolman was invited to be a lead instructor for a barbecue science class at Ohio State University where he is educating others on the fundamentals of grilling. In addition to his teaching ventures, Kolman has also judged grilling competitions around the world.
Jennifer Beckman was the $100,000 grand prize winner of the 2011 Sutter Home Build a Better Burger Recipe Contest with her farm-inspired Screen Porch Burger. A successful competitive cook, she has also won the National Cornbread Championship (2011), the Crisco Mediterranean Inspirations Recipe Contest (2011) and the Mama Mary's Pizza Creations Contest (2012). Beckman has also competed in the finals of the Gilroy Garlic Festival Cook-Off, the Good Housekeeping Cook Your Heart Out Cook-Off and the National Beef Cook-Off. Beckman is a lawyer-turned-stay-at-home-mom, and enjoys cooking for her family, friends and community, bringing people together over fresh, wholesome food.
Over the last two decades, the popular recipe contest has collected thousands of mouth-watering burger recipes, allowing Sutter Home to house "The World's Largest Burgerbase." The burgerbase® also serves as inspiration for contestants, as judges look for original and creative recipes that are packed with flavor. Past burger recipes feature a wide range of combinations of ingredients ranging from grilled avocado BLTs to strawberry BBQ bacon and soy-glazed salmon.
Sutter Home is excited to feature the sponsors of the 2012 Sutter Home Build a Better Burger Recipe Contest, including KING'S HAWAIIAN®, Wholly Guacamole ®, The Beef Checkoff, The California Milk Advisory Board and Kitchen Aid.
Joining this roster of sponsors for the 2013 Sutter Home Build a Better Burger Recipe Contest is Weber-Stephen Products LLC and Kettle Brand® Chips.
To find more information on the Sutter Home Build a Better Burger Recipe Contest, including where to enter recipes, along with recipe guidelines, past recipes, wine pairing suggestions, past winners and other details of the contest, visit http://www.sutterhome.com.
About Sutter Home
Sutter Home Family Vineyards is wholly owned and operated by the Trinchero family, Napa Valley vintners since 1948. The Trinchero Family Estates portfolio includes more than 30 brands such as Sutter Home, Trinchero Napa Valley, Napa Cellars, Terra d'Oro, SeaGlass, Trinity Oaks, Folie à Deux, Ménage à Trois, and the number one alcohol-removed wine, Fre. TFE markets and sells Joel Gott Wines; Charles & Charles wines; and the Three Thieves group of wines: Bandit, Newman's Own, and The SHOW. TFE's import portfolio includes Angove Wines from Australia; Doña Paula wines from Argentina; Carmen Wines from Chile; Shatter Wines from France; and CRUZ and Tres Agaves Tequilas from Mexico. Visit http://www.sutterhome.com to learn more.
###
Media Contacts:
Nora Feeley
Trinchero Family Estates/Sutter Home
707-963-5928 ext. 2160 nfeeley(at)tfewines(dot)com
Vineetha Pathrose
Edelman
415-486-3258 vineetha.pathrose(at)edelman(dot)com