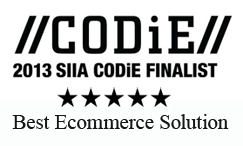 We are thrilled to be named a finalist by CODiE for Best Commerce solution again this year!
Manish Chowdhary, CEO, GoECart.
Bridgeport, CT (PRWEB) April 04, 2013
GoECart, the leading provider of multi-channel ecommerce solutions delivered via the cloud today announced that its GoECart 360 ecommerce suite was named a finalist in the 2013 SIIA Software CODiE Awards for Best Commerce Solution. The SIIA CODiE Awards are the premier award for the software and information industries, and have been recognizing product excellence for 27 years. The awards have over 75 categories and are organized by industry focus of Content, Education and Software.
This year there were 27 software categories, including twelve new and updated categories that reflect the continued growth and evolution of cloud computing, mobile, big data, and video. Winners will be announced during a special Awards luncheon on May 9 in San Francisco during the industry's most comprehensive ISV conference, All About the Cloud.
GoECart 360 is the premier, all-in-one ecommerce suite designed for multi-channel merchants to manage their entire business with a single web-based application. GoECart 360 is the industry's first truly integrated SaaS ecommerce solution. Highlights include:
> Advanced Ecommerce Platform — State of the art ecommerce engine delivered via SaaS has built-in Integration with leading e-Marketplaces like Amazon® and eBay® AND tie-ins to all major social networks like FaceBook® and Twitter®
> Multi-channel Order Management System — GoECart's built-in, enterprise-class order management system (OMS) gives merchants the same multi-channel back office functionality and features used by Internet Top 500 companies — saving them thousands!
> Inventory and Warehouse Management — GoECart 360 provides a full-fledged IMS right inside the commerce suite powered by the same data source. This includes up-to-the-minute details about inventory, suppliers, and procurement as well as complete visibility into the supply chain.
> Integrated Customer Relationship Management — GoECart 360 also includes a Saleforce.com-like CRM and rich transactional email capability designed to help retailers increase loyalty and improve customer satisfaction.
> Much more — GoECart 360 includes literally hundreds of additional features which can be extended further through a robust set of APIs or through third-party integrations.
"We are thrilled to be named a finalist by CODiE for Best Commerce solution again this year," said Manish Chowdhary, CEO of GoECart. "The CODiE's are one of the industry's most respected awards making this a true testament to the innovation of GoECart 360 product and the hard work and dedication of the GoECart team."
"The CODiE Awards competition was extremely competitive this year, and all of the finalists should be commended for their innovative products and services," said Rhianna Collier, VP for the Software Division at SIIA. "We look forward to honoring the winners at our awards program in May at All About the Cloud."
Details about each finalist are listed at http://siia.net/codies/2013/finalists.asp
About GoECart:
GoECart® provides integrated, on-demand ecommerce solutions that empower retailers to sell more goods and services more efficiently. Our flagship, all-in-one ecommerce suite, GoECart 360™, combines a powerful ecommerce storefront with multi-channel order and inventory management, fulfillment, CRM, and much more. GoECart 360 enables merchants to sell across all major customer touch points—web storefronts, "brick and mortar" stores, call centers, mail order catalogs, and the leading online marketplaces. We help companies grow revenues, automate business processes, streamline IT costs, and achieve greater profitability.
About SIIA:
SIIA is the leading association representing the software and digital content industries. SIIA represents approximately 700 member companies worldwide that develop software and digital information content. Information technology (IT) and software security are critical issues to SIIA's members, many of whom strive to develop safe, secure and state-of the-art products that effectively serve their commercial and government customers alike, while protecting their intellectual property.