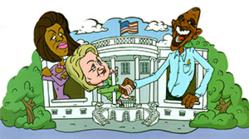 Our dream is to become the worst nightmare of shifty global leaders and international celebrities.
Kyiv, Ukraine and Washington, DC (PRWEB) April 03, 2013
Four Ukrainians with a dynamic, global sense of humor are on a mission to enlighten and entertain politically aware American TV viewers with a powerful new concoction that mixes popular music, politics and cartoon animation. Their format – and their company – is called MuPoToon (for music, politics and cartoons). Their showcase product, Desperate White House, was inspired by Barack Obama's election as the first African American president of the United States.
The four Ukrainians – CEO Gennadiy Kurochka, Creative Director Yuriy Sak, Marketing Director Vasyl Myroshnychenko and Executive Director Oleksiy Syvak – are also partners in the Kyiv-based communications firm CFC Consulting, long associated with promoting the World Music Awards. In 2007, CFC produced a video for the World Music Awards organization featuring global pop stars to raise awareness of the humanitarian crisis in Darfur – a project so successful that former President Bill Clinton sent them a personal thank-you letter.
The following year, remembers Myroshnychenko, "We were struck with how excited the black artists were about Barack Obama's election. And we were struck with how Obama could mesmerize people. He really captured the hearts of ordinary people around the world."
So the four started tinkering with animated shorts taking a tongue-in-cheek look at the new world leader. Then the Nobel Committee handed them a golden opportunity when it awarded Obama the Nobel Peace Prize only a year into his presidency. While the committee cited Obama's "extraordinary efforts to strengthen international diplomacy and cooperation between peoples," the award drew mixed, sometimes skeptical reactions from commentators across the political spectrum. The MuPoToon team got to the bottom of the Nobel Committee's reasoning in Barack Obama Superstar: The Secret of the Nobel Peace Prize. The 22-minute animation – which also features Vladimir Putin, Hugo Chavez, Dalai Lama, Hilary Clinton, Forrest Gump, Steve Jobs, Monica Lewinsky and even Alfred Nobel himself – debuted in Oslo, Norway on the day of the 2009 Nobel Peace Prize ceremony and received much critical acclaim in Europe.
While continuing its stream of short animations sending up political scandals, government leaders and show business celebrities, MuPoToon kept working and re-working its concept for a regular animated series focusing on the White House. The result – which is now being shopped around the U.S. entertainment industry by Electra Star Management – is Desperate White House. One of Electra's best-known clients – comedian Ron White of Blue Collar Comedy Tour fame – is projected to have a recurring role on the series, along with his wife, two dogs and signature scotch and cigar.
Desperate White House is being produced in formats suitable for television, internet and mobile platforms, in varying lengths tailored for 30-minute commercial television time blocks as well as shorter Internet and mobile broadcasting blocks. The series is being pitched to cable, satellite and broadcast television networks, political and news comedy shows and to the websites of news, business and lifestyle publications.
The series "is not about the President as a personality," says Myroshnychenko. "We are not promoting him, and we are not against him. It is really a fly-on-the-wall comic look at the secret life of the White House and its occupants – as seen through the eyes of seven members of the White House staff, some of whom are foreigners. America is a multi-cultural, multi-ethnic society, and these sorts of jobs are typically held by foreigners and immigrants. So we focus on the people who work there and answer the question, 'How can a cook influence global politics?'"
The central characters of Desperate White House are:

The wayward security officer Emmanuel, a grumbling ex-dictator from Haiti
The macho "top-gun" driver Jason, a gay ex-Navy Seal
The gullible doctor Hanna, a Polish middle-aged sex bomb with the innocence of Paris Hilton
The crazy gardener Mitko, a Bulgarian immigrant once nominated for the Nobel Prize in Physics
The nerdish IT guru Scott, a 13-year-old prodigy with an I-was-hit-by-a-thunderbolt haircut
The obnoxious chef Luc, a cynical anorexic Frenchman who's convinced that McDonald's is the work of the devil
The humorless butler Charles, founder of the Alcoholics Anonymous Oxford University Group
MuPoToon has secured the services of three American television veterans for Desperate White House – Writer/Producer/Director Ian Gurvitz, whose credits include the hit series Becker, Wings, Frasier and The Wonder Years, and the writing team of Andy Marx and Will McArdle, who have been involved with projects for CBS Films, Radar Pictures, Nickelodeon, Universal and Disney.
While Desperate White House is making the rounds in Hollywood, MuPoToon is seizing every opportunity to put a humorous spin on world events – such as the political demise of Egypt's President Hosni Mubarak, the sex scandal that engulfed Italian Prime Minister Silvio Berlusconi, the failed re-election bid of French President Nicolas Sarkozy, the Wikileaks announcement of tax-evading celebrities and failed international attempts at dealing with global warming.
And the MuPoToon team is taking pot shots at political leaders and celebrities – such as actor Charlie Sheen, former U.S. Vice Presidential candidate and political commentator Sarah Palin and Apple founder Steve Jobs.
"Our audience," jokes Yuriy Sak, "is mature adults with a subtle sense of humor and no trust in world politics. Our dream is to become the worst nightmare of shifty global leaders and international celebrities."
Contacts:
In Washington, DC: Herb Perone herb(at)peronecomm(dot)com 301.512.7636
In Kyiv, Ukraine: Vasyl Myroshnychenko vm(at)cfc(dot)com(dot)ua +38 044 492 75 99