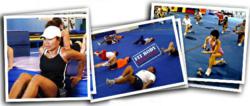 You have to understand that your goals with your company Facebook page aren't the same as your goals with your personal page
Chino Hills, CA (PRWEB) April 03, 2013
In a recent keynote address at an online marketing conference, fitness marketing expert Bedros Keuilian spoke at length on using Facebook for personal trainer advertising. While he was very positive about the effectiveness of Facebook marketing, he admitted that he made quite a few mistakes and wasted quite a bit of money when learning how to market a fitness boot camp on Facebook.
"Facebook may be hot, but it isn't magic, and it isn't plug-and-play" says Keuilian. "Simply putting a page up and getting people to visit and hopefully share your page aren't going to get you a lot of new clients or a lot of new business."
Although Keuilian's Fit Body Boot Camp franchise is now the fastest-selling fitness business franchise in the world, he admits that when he first embarked on Facebook marketing, he made a lot of mistakes that cost quite a lot of money.
"When I was building my business as a personal trainer, I learned a lot of things about personal trainer advertising and I learned most of the important stuff the hard way," he explains. "The same thing was true when I had to learn to adapt my methods to Facebook. A lot of things that I thought would work really well fell flat."
Among those mistakes were purchasing expensive Facebook ads, which didn't give him nearly enough return on his money, and expecting that clients sharing his Facebook page would bring him plenty of new leads. So what advice does he offer others on how to market a fitness boot camp through Facebook?
"You have to understand that your goals with your company Facebook page aren't the same as your goals with your personal page. With your personal page, you're posting what's going on in your life and your friends are interested because they're interested in you. You don't care so much if they interact with each other on your page." says Keuilian. "With your business page, interaction is everything."
Keuilian goes on to explain that an effective company Facebook page should be like a coffee shop, with people coming together to discuss and even debate topics that interest them or get them thinking.
"I call it stirring the pot," he explains. "When you throw a comment or question up that is being debated or talked about in your industry, you incite people to share their own thoughts. Then a discussion gets started and that discussion gets shared with their friends because it's interesting and entertaining. People who might not have shared your page in general are sharing that specific discussion, which achieves the same goal. "
Keuilian shares that his Facebook fan page recently added 5,000 new followers in the last six months using this "stir the pot" approach. As he puts it, that's 5,000 more people to whom he can market his products and business and that, is after all, the whole point.
To find out more about Bedros Keuilian, his company PTPower.com and the Fitness Boot Camp Franchise Fit Body Boot Camp, contact Bedros Keuilian at (800) 261-0208. Alternatively you may use the contact form at http://ptpower.com/contact-me/ or send an email to Bedros Keuilian at support(at)keuilian(dot)com.