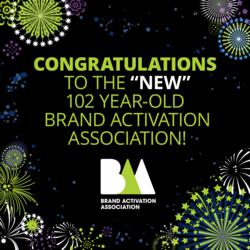 New York, NY (PRWEB) April 03, 2013
Following a brief transitional period, the 102-year old Promotion Marketing Association (PMA) officially became the Brand Activation Association (BAA) today during the organization's Annual Marketing Conference.
Bonnie Carlson, BAA President and CEO, opened the conference in Chicago by announcing that the name change has now become official and that a message marking the occasion was currently being displayed on an electronic billboard in New York's Time Square (attached). Carlson said the new BAA will have a broader focus on all the disciplines required to activate a brand's strategy in retail environments, from creative strategies to measurement, and on topics ranging from omni-channel marketing to experiential marketing and social media.
"We are excited about building on PMA's 102-year legacy of advocacy, education, recognition, networking and community by actively responding to changes brought about by the explosion of digital, social and mobile communications," Carlson explained. "As these new-age channels have dramatically altered association members' marketing cultures, new ecosystems of retail have been spawned, particularly in the areas of e-commerce, mobile shopping, show-rooming, social shopping and more."
The BAA is dedicated to becoming the unbiased aggregator of brand activation-focused industry learning, best practices, and innovation. The expanded focus will allow the organization to grow beyond the narrow, traditional definition of 'promotion' so that the association can better serve its brand management, marketing agency and legal professionals membership.
"BAA will continue to focus on the challenges that brand marketers face in today's marketplace so they can thrive and grow their businesses, " Carlson emphasized. She added that BAA would introduce a variety of new resources for marketing professionals as the association expands into the leadership organization for brand activation.
###
About BAA
The Brand Activation Association (BAA) is the national non-profit trade association dedicated to the industry of marketing disciplines that motivate behavior, activate response and build brands. Representing over $750 billion dollars in sales, brand activation disciplines include all the myriad connection points with the consumer, such as digital/mobile/social media marketing, shopper/retailer marketing, experiential marketing, marketing law, promotion marketing, multi-cultural and niche marketing, cause marketing, and sports, entertainment and sponsorship marketing. Founded in 1911, the BAA has championed this industry through its combination of research, education, advocacy, and collaboration opportunities. The organization's membership is comprised of Fortune 500 companies; top marketing agencies, law firms, retailers, service providers and academia, representing thousands of brands worldwide. The BAA is headquartered in New York City with its affiliate, the PMA Educational Foundation, Inc. For more information about PMA visit http://www.pmalink.org