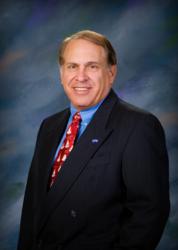 "I am very passionate about helping others."
Mesa, Arizona (PRWEB) April 03, 2013
The oldest, most professional networking organization in America, LeTip International, Inc. acquires a new Regional Director for San Diego and Orange County, CA. Kim Marie Branch-Pettid, President and CEO of LeTip International, the premiere B2B network organization, has announced the appointment of Andy Huff to the position of Regional Director. In his new position, Huff will be responsible for the development, training and mentoring of new and current LeTip members and chapters within these areas. "Teaching people how to give referrals and grow their business is key to his success." claims the CEO.
With more than 25 years of sales experience, owner of multiple small businesses and an original member of LeTip's first chapter, 35 years ago, LeTip of Kearney Mesa (CA), Huff brings a deep understanding of customer service and professional networking to both regions.
"LeTip has always been with me when I needed them most. It was LeTip that got me through the recession in the 90's when I sold copiers and through the last few years when I sold gourmet food. I have seen so many people starting new businesses grow and thrive after they joined LeTip. I am very passionate about helping others." continued Andy.
"Andy has a vast knowledge of how business works from many different levels, which will help him a great deal when working with LeTip members, business owners and the communities he is involved with ." said Kim Marie Branch-Pettid, President and CEO.
Huff, resides in Irvine, a dedicated father and grandfather, of three children and two grandchildren. During his spare time Andy enjoys watching the Dodgers as an avid fan with a fond memory of Brooklyn, NY, his birthplace. After baseball season, Andy admits a lot of his spare time goes to working on two novels. Andy excitingly shares "which I hope to publish one day!"
We welcome Andy into our LeTip family and wish Ana Vega much success in opening a new region in North Carolina!
About LeTip International, Inc.:
LeTip International is the world's largest, privately owned, professional business leads organization. Since 1978, LeTip programs have helped over 120,000 members, throughout the United States and Canada, build business success through personal referrals.LeTip International's structure set the standard in the word-of-mouth referral industry. Members are known for their professionalism, dedication, and loyalty to one another, and to the LeTip Program.LeTip Chapters meet weekly to exchange qualified leads, build solid business relationships, develop strong presentation skills and become proficient networkers. Only one representative of any given profession is accepted into a chapter, and members are chosen for their occupational expertise.
Last Updated on Wednesday, 21 March 2012 14:31