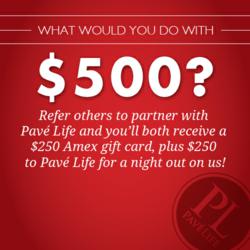 We want to help our organizations help other organizations with the possibility of unlimited rewards thanks to the fully renewable nature of our Referral Rewards program. -- David Hack - CEO/Founder of Pavé Life
Darien, CT (PRWEB) April 11, 2013
Pavé Life, the premier national platform for premium entertainment, today announced merchants can earn $500 in rewards for using the Merchant Referral Program. With this latest upgrade, merchants can receive a $250 American Express gift card as well as $250 towards their next purchase on Pavé Life when they refer another venue or organization. The newly referred organization also receives these rewards, in addition to gaining access to the largest mass affluent consumer reach nationwide when they become a Pavé Life partner.
"I highly recommend Pavé Life if you are a venue looking to increase foot traffic. The people at Pavé Life are very professional and walked me through the entire process," said the Managing Partner at the Metropolitan Room in New York City. Merchants can see Pave Life's YouTube channel for more information about this partner's profile.
All Pavé Life merchants are encouraged to tell fellow arts, culture, and premium entertainment venues about their use of Pavé Life's services to help them sell their unsold tickets and increase awareness. For every successful referral, the gift card and discount will be rewarded to the referrer and to the new partner. Pavé Life aims to share an organization's inventory to a much greater reach than the original possible market. The premium entertainment site is free and easy for consumers to use. Users of this exclusive site simply discover new entertainment offers from Pavé Life's merchants, purchase tickets at up to a 65% discount, and receive their voucher to present at will-call. Members also receive daily notifications of discounts on local and national tickets to first-class entertainment. No other platform allows organizations to reach such a large target audience of consumers.
Existing merchants should visit the updated Merchant Referral Site to take advantage of this opportunity today.
About Pavé Life:
Pavé Life is the premier arts, culture, and premium entertainment marketplace that helps members experience the arts like never before. Tickets are offered online at astounding prices—up to 65% off the market standard. Pavé Life allows art and cultural organizations to increase revenue and exposure at the local, regional, and national level, without diluting their brand. Partners can expand their reach to potential future affluent donors, fill the seats of their venues, and more when members receive daily discount notifications and make purchases through the online marketplace. To learn about becoming a partner with Pavé Life, click here or email becomeapartner(at)pavelife(dot)com.